Anytime we write about prospecting, appointment setting and anything else relevant to successfully closing deals, we mention the importance of building trust and forming a relationship with potential customers.
But what happens after the contract is signed?
How do you make the most out of the trust level you've already built?
How do you amplify it over the course of your partnership with the client?
This is why we have client onboarding, a step-by-step process that helps your new clients get familiar with the algorithm of your services, understand their part in your B2B relationship, establish deadlines and bridge all information gaps.
While it seems like client onboarding is something any sales representative should be doing intuitively, without any guidelines or plans, you should remember that everything works better with structure. Having a client onboarding plan mapped and distributed across your sales teams makes their work much easier — and keeps your customer satisfaction rates high and growing.
Here's how you can get started:
What happens without a client onboarding?
When you sell your product to prospects, you address their concerns. As business owners, your potential buyers want to be sure that their decision won't put their revenue, their company goals or their market position in danger. However, they can only be confident about their choice when they see the results, and that takes some time.
So, what happens if you just let your customers wait for the first results without bothering to speak with them and explain what's going on?
Your churn rate grows. If you make your client wait for the value instead of proving it in the very first days of your cooperation, they won't bother to stay around. They have a lot on their plate, so the last thing they want is anticipation and uncertainty instead of transparency and confidence.
You lose control. If you don't document the process of your work with the client, can you really be surprised when your sales reps and PMs start setting wrong objectives and experience communication issues? Unless you're Professor Xavier, your teams can't read your thoughts. So, if you don't explain the dynamic between your business and your clients to them, they will be left in the dark, which leads to drastic consequences.
Your reputation suffers. It's very important to establish what your clients should expect in Month 1, Month 2, Month 3 and so on. Being vague about the results can lead to conflict between what your customers expect and what you can actually do. In the end, it's likely that your clients won't recommend you to other companies or leave a 5-star review.
Legal issues pile up. If you do not comply with the rules and conditions in your contract while working with your customer, you're walking on deadly thin ice. Since an unsatisfied client can take the matter to court if they're unsatisfied with how their legal side is covered, you leave yourself vulnerable to something more than reputational damage. Are you willing to take that risk?
As you can see, the main danger of not having proper client onboarding is chaos. If you're a startup who needs to make the most out of every client and every cent in your budget, not letting uncertainty and unpredictability take over is a must.
How to establish a client onboarding process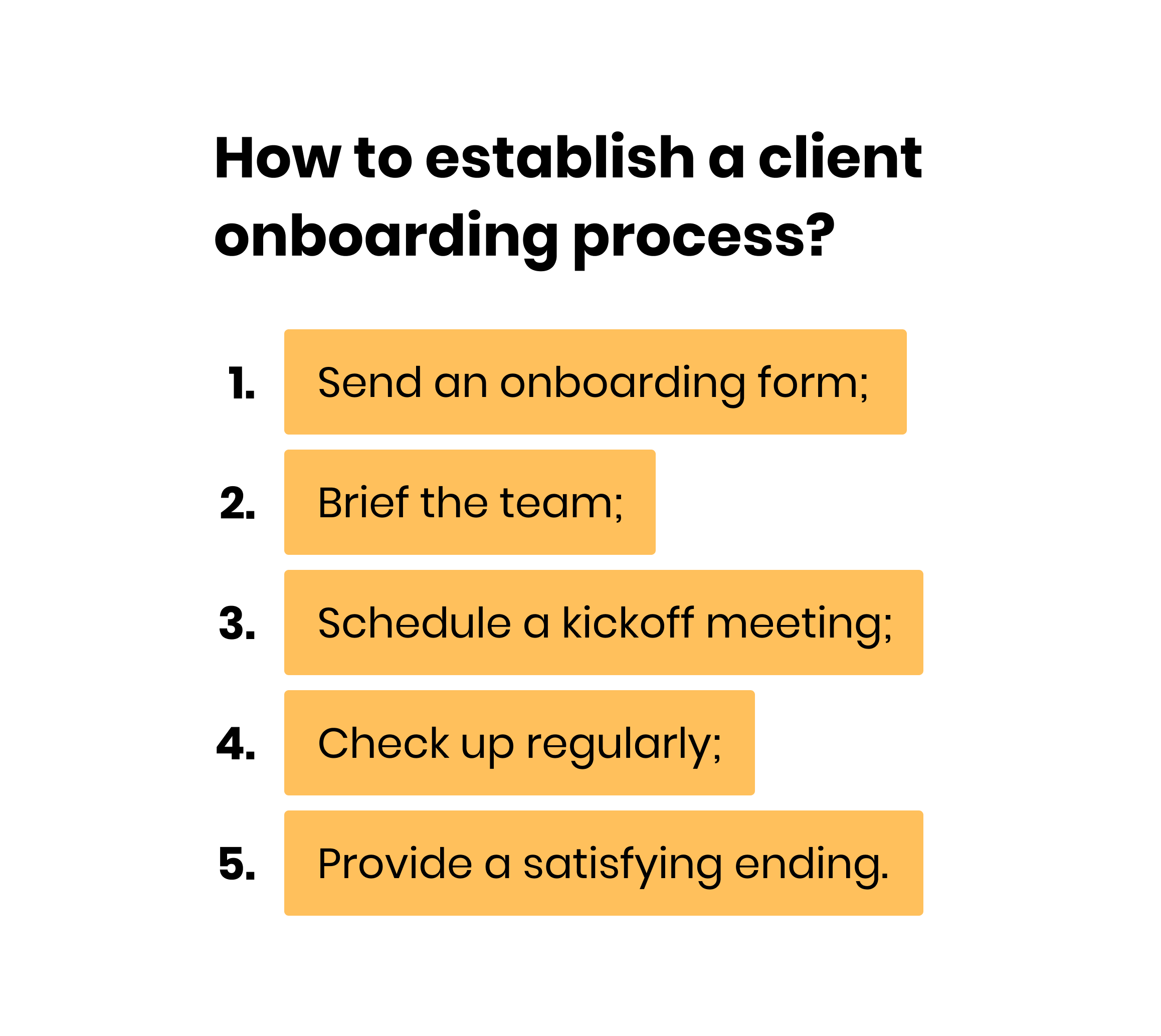 1. Send an onboarding form
Whether it's a Typeform, a Google doc or a Word file, you should have a special questionnaire in place to let new clients outline their goals and needs, and provide you with information that is relevant to your business. In our case, we ask each client to fill out an Ideal Customer Profile form, so we would know what industries to research, what companies to target and what pressure points to use in our outreach. Sometimes, when a client wants to explore a new market, we help them build an ICP that matches their needs.
In general, an onboarding questionnaire should include the following information:
Client's business data;
Point of contact;
The preferred channel of communication;
Key performance indicators;
The end goal of the project.
If you need access to the client's software in order to get the job done, add a field for a password or let the client suggest a way to provide you with access to important information.
2. Brief the team
After you receive a questionnaire from the client, assign a team to the project. Send a filled out questionnaire to all team members and meet with them to outline every important part of the project. It will help you rest assured that your experts know what to do when to act, and how to communicate with the client to assist them throughout the project.
Register a channel for the new project in your project management system to keep an eye on the progress.
As an extra measure, you can send a meeting recap email to your team, outlining all the points you've discussed.
3. Schedule a kickoff meeting
The only right way to get the project started is to arrange a meeting with the client. It doesn't really matter whether you do it via a F2F appointment or a Skype call as long as it covers these main points:
Introduce the project team to the client. When your clients see the faces behind the project, they feel more comfortable with reaching out in case any questions arise or providing necessary information. Letting your team and your client meet in advance also removes tension, making their further communication more natural.
Get the client hyped up for the work ahead. Setting the tone is as important as building a structure for your project. If your client feels your enthusiasm and eagerness to get started, it will affect their own disposition towards you, the project, and its results. Why be dry and formal when you can be calm, reassuring and positive?
Leave the opportunity for corrections and clarifications. During a kickoff meeting, go over the project, objectives and the ultimate goals in order to receive your client's approval or let them make any adjustments while they still can. By doing this, you save your team from dealing with misinformation or any other inconveniences brought by poor communication.
4. Check up regularly
Our SDRs are available to their assigned clients 24/7 on Telegram, Slack, Viber, WhatsApp, or any messenger. That enables us to resolve all the matters as soon as they arise and make our customers feel safe about their project.
In addition to this, we schedule calls with our clients at the end of each stage, so we could summarize our steps and activities, ask for information that we might require as we proceed to the next stage, and ensure that our customers are satisfied with our services.
It's critical to schedule checkup calls in advance by sending your customers an email with a link to their calendar tool, so they could choose the time slot that works best for them.
Why should you do it? You must be sure that your customers have the time to speak with you and discuss all the details. If you call them when they're in a hurry or preparing for an important meeting, you won't get enough feedback to further map your plan.
5. Provide a satisfying ending
Every relationship must be meaningful. Even when it ends. After your business is done and your customer is not in a hurry to extend the contract, what's the next logical step?
Disappear without a single word?
Not that it would wound your client but at the same time it will give an impression of:
a) you not being interested in a client as soon as they stop paying you;
b) you being so preoccupied with finding new customers, you didn't even bother to say goodbye.
Many professional sales developers understand the power of a genuine and thoughtful farewell. Also, they know how to say goodbye in a way that will motivate your clients to come back in the future.
What should you do at the end of your cooperation?
Thank your customers for their contribution. Show your clients what you value about your relationship (it shouldn't only be about money!). Outline the most pleasant aspects of working with them and make sure to let them know that you're grateful for the experience that lets your business grow.
Rely on your customers' opinions. You can always do more to make your client onboarding better. Consult with your clients on their thoughts regarding your work. Ask them what they liked the most about working with you — and if they have any suggestions. You don't have to call them to find out their opinion. Just send them a short form that they can fill out and send back to you. Don't be shy — it will show your clients that you value quality and their input. It's always pleasant to be a part of something good.
Pay attention to your customers' achievements. Everybody likes receiving presents. Especially when they don't expect them. Small gestures like congratulating your customers' on entering the Fortune 500 list or sending a present for their company birthday make a large difference and show that you care about their progress even after your business relationship is over.
The ultimate rules
Don't be stiff. Every client has individual needs and demands that you must cover. Make sure that you can adjust your basic client onboarding plan to meet those needs and make your new customer feel comfortable from the get-go.
Don't rely on hearsay. Your guidelines shouldn't exist in words only. Put them on paper — or digitally. Write down your responsibilities, your sales teams' duties and an overall client onboarding scenario. Distribute the materials across your teams. Let them know that they are free to ask for clarification if it's necessary. Document everything you said/discussed with your client regarding the project.
Don't neglect tools. You should be able to monitor your progress and see all the milestones. This way, you will avoid pitfalls and be able to solve any issues before they become too complicated. Therefore, make sure that your project data is documented in updated in JIRA or any other project monitoring tool of choice. When you work with several projects and clients at once, it's painfully easy to miss important details and deadlines — a fine-tuned task board with progress bars and notifications will save you from the chaos.
We hope this input gave you some ideas about client onboarding and how to build a plan that works for you and your customers.
As always, more blog posts are coming, so join our subscriber club and be the first to know when we post!