You might take a look at our previous articles and think that we've never heard "no" in our lives. That's, of course, too good to be true.
When you work in B2B sales and offer your services to companies that work in highly competitive areas, your communication is based around dodging objections and finding a way through the prospects' doubts and concerns.
Sometimes, you succeed. Sometimes, there is nothing you can do. But the latter doesn't happen as often as it seems. It's all about how well you can read the signs and control the situation.
To help you with handling objections in sales, we decided to provide a list of responses we have to deal with from time to time. We hope they would be an encouragement to you — and provide a couple of good tips!
Sales objections: It's in the BANT
Most common objections in sales stem not from the prospects' individual opinions about your product, but from a simple concept: Budget, Authority, Need, Time (or BANT).
First and foremost, your prospects care about the well-being of their company. As you handle their objections, your main goal is to show that this is your concern as well.
Budget
Your product is too expensive. An objection that many sales reps face on Day 1.
The prospects are seemingly overwhelmed by the price of your product or services, creating a very palpable obstacle in your communication. But there's a trick about this objection — it doesn't necessarily mean that your prospects don't have the funds.
If you've built an ICP and based your targeting on it, your pricing is supposed to be a good fit for your potential customers. So, at this point, your task is to find out — are they really concerned about the cost or is it just a way to opt-out of the conversation?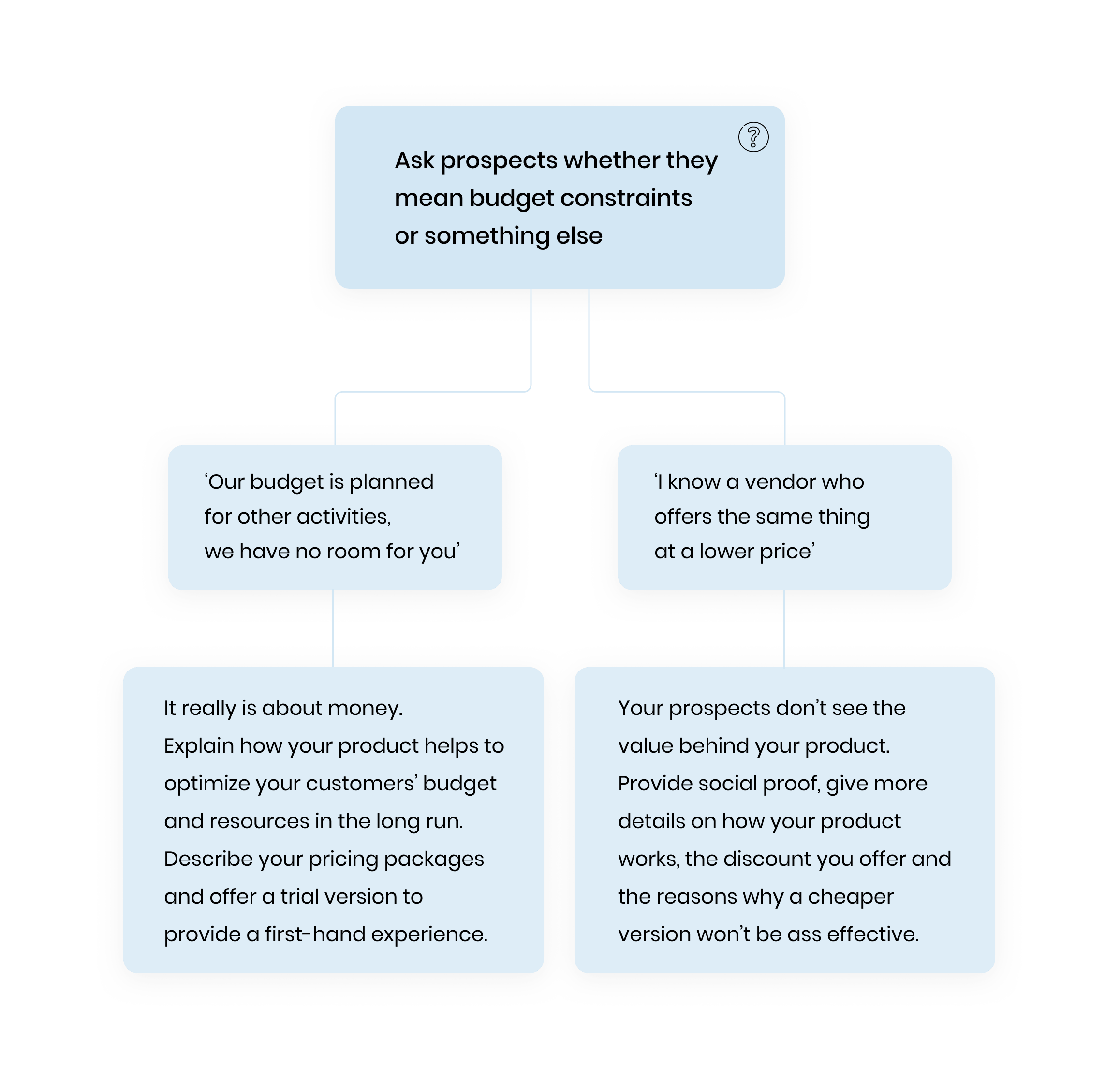 In some cases, it can really be about your pricing. Like in some cases when you sell a 4-digit service to small businesses.
However, it can only happen if you start your sales campaigns without doing your research — therefore, in that particular scenario, sales objections are not an emergency. Your strategy is.
Authority
The DemanGen 2019 survey revealed that 75% of B2B customers dedicated more time to researching potential purchases. In 2018, 72% of B2B customers admitted to doing that.
But that's not all. From that 72 % of customers, 32% of them invite colleagues into the research process.
And if you sell to medium-sized businesses or large companies, you don't sell to a single decision maker, but to an entire group of decision-makers.
The prospect you get on the line is part of this group, the one who brings your unique value proposition to the table and pushes it to other titles at their company. So, don't be surprised to hear 'I'll need to sell this internally' in the end. In fact, you should be well-prepared for this outcome.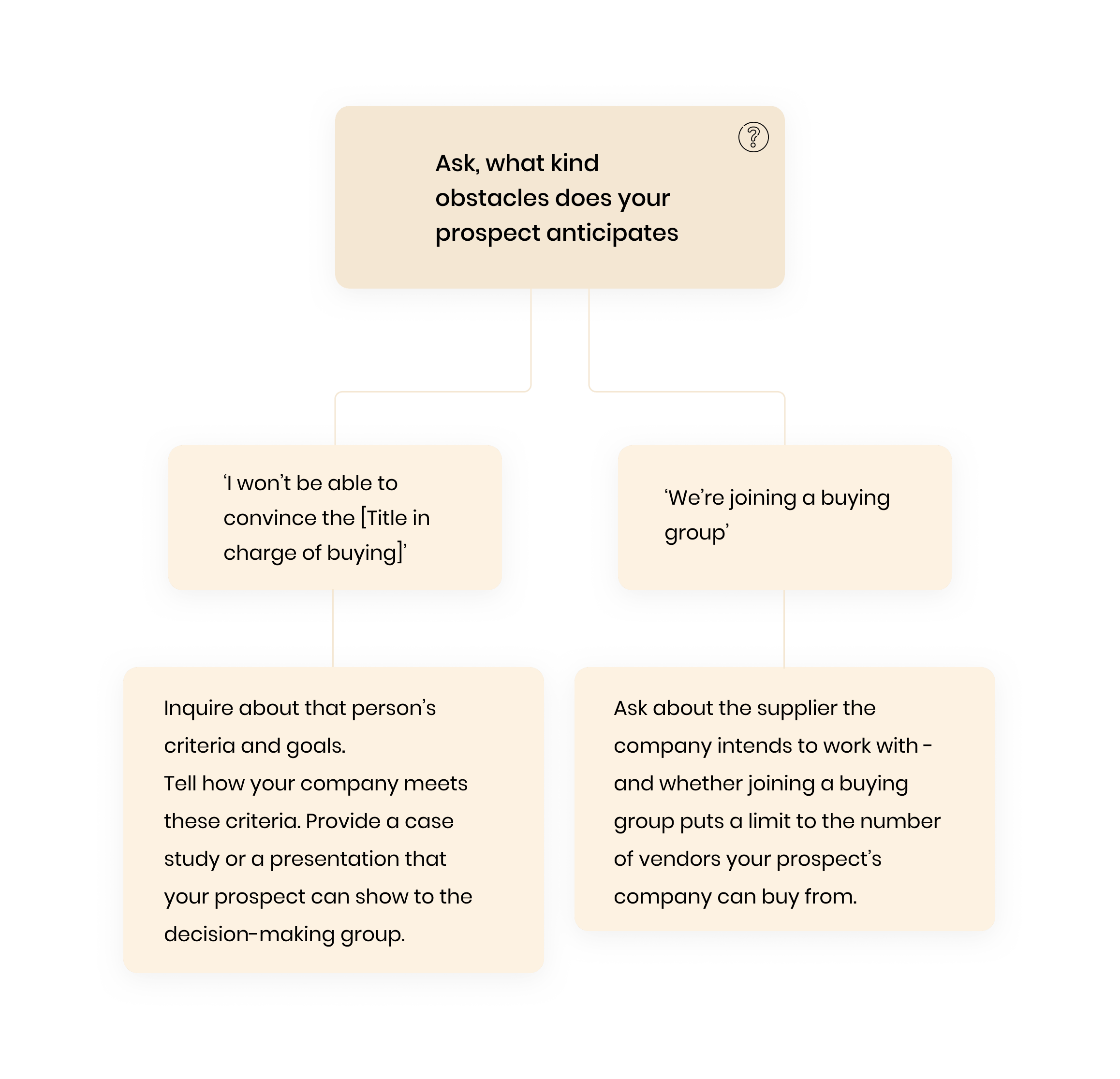 From our point of view, authority sales objections are more complicated to deal with than budget sales objections.
Sometimes, all it takes is a particular member of a decision-making group who is adamantly against making a deal right now, doesn't see any value in the product and ultimately leads to either postponing an entire deal or making you let go and move on to other prospects.
At best, you can suggest following up with them in a couple of months. Maybe at that point, you'll have more chances at scoring a deal.
Need
'We're doing fine right now'. Here is the challenge that you were trained for. It's your professional duty to accept it.
Depending on the prospect you speak with, this sales objection can mean so many different things:
Indirect refusal. We don't want to work with you right now. Our results for this quarter are good and I think that involving a vendor that we don't really need would mess things up.
Fear of the unknown. I don't know what your product or service does and I'd rather not work with something I don't understand. I won't admit that because I don't want you to get pushy.
Being obvious. I know that companies like mine can stumble upon several issues but right now, everything is just fine. If there is no problem, what are you going to fix?
But how would you know whether you're dealing with 1, 2 or 3?
First of all, don't let awkward silence take over. Second, don't pounce on your prospects with a "You're wrong and here's why" speech.
Ask your prospect about the company's success. Use your knowledge of the prospect's industry to highlight the prospect's company performance. Bring up several titans from the prospect's industry and explain why they're so successful — mention that they work with vendors like you. If you're the one working with an industrial giant, inform your prospect about it.
In the end, your conversation must end in you providing more details on how your services work, persuading your prospect to download some informative materials you made or schedule a call for a free demo or consultation.
Time
As we always say, there's a right time for everything. Your prospects are affected by the change of seasons and other circumstances that are beyond their control.
Even though your calculations show that you reach out at the right moment, you still may come across such sales objection as 'It's not our primary concern right now'. This is your prospect's way to let you know that this is not a good time or that they are too busy with other matters.
Of course, if it's the latter, they usually ask you to call back later. In that case, it's easy as pie — you schedule the best time for your follow-up and call it a day.
But when you're unsure what your prospect really means by saying 'This is not our priority at the moment', ask for clarifications. If it's about time management, say how your product saves time and show why it's more effective than similar products or services. If it's about your prospect being too busy, offer to schedule a follow-up.
Sales objections: staying in control
In the course of your work as a sales representative, you're quite likely to come across a challenging objection and find yourself at a loss at some point. But unless your prospect hangs up on you, you can still remain in control of the situation.
How do you remain in charge of the conversation?
Be a good listener. Your prospects expect you to back off because they think you're only looking to profit. However, your goal (and your company's goal) is to solve problems. Ask questions about your prospect's work. Show that you're interested in seeing their company prevail.
Find touching points. You don't need to convince your prospects that you're the best thing on the market. You only need to show them that you're the vendor who understands. Show that you got into this business because you care about the companies in the prospect's industry and want to make their work easier. If your product is developed for a certain area and designed to meet the needs of companies with a certain revenue size/team size, make an emphasis on your company's knowledge and experience.
Don't let sales objections slip. Repeat your prospect's objection to show that you're not afraid to hear it and talk it over. Voice your conclusion and ask your prospect if you're correct. Be willing to hear their explanation and thank them for the insight, regardless of the outcome of the conversation. Even if you won't end up converting a prospect into a customer, part on a positive note will make a good and long-lasting impression.
We hope this article helped you deal with your doubts concerning handling objections in sales.
If you want us to release a full detailed guide on that subject, let us know! We'd be happy to sink our teeth into more sales objections examples!
Also, don't forget to subscribe to our newsletter and stay aware of all the new articles and updates!