Yuriy Boyko is the Head of Account Management at Belkins B2B lead generation company, focusing on B2B marketing automation and sales. Yuriy has been playing in the Belkins band from the early days and has joined the team as a scientist, as he literally has a Master's degree in Chemistry. Yuriy quickly grew up to be an exceptional marketing expert. A strong background in science and a creative approach allows Yuriy to always think out of the box while staying precise and achieving the highest results in any industry he undertakes. He used to work with companies of different sizes, industries, and levels of complexity. Yuriy had worked with over 80 clients overall in 3 years!
Brief overview
Belkins' Head of Accounts, Yuriy Boyko, is sharing his expert knowledge on how to handle a complex outreach campaign for a niche industry and ensure a steady flow of leads — 10 appointments per month for two years straight.
Project
1) What was the project you were working on?
We were working on a B2B appointment setting program for Phenome Networks, a SaaS platform for breeding and a variety of testers across the world. Our goal was to build and establish a stable workflow of highly qualified prospects for the client from scratch.
2) What was the biggest challenge?
Phenome Networks isn't a typical SaaS platform with a straightforward value proposition. The main challenge was to outline the client's competitive advantage and develop an effective go-to-market strategy from scratch.
3) What solutions helped you to overcome the challenge?
Complex Ideal Client Profile and exhaustive lead research. In fact, it's essential to know all the buyer personas inside out to find perfect leads, which is a challenge when it comes to such a niche industry. At the beginning, we had to explore many ways to Create an Effective Ideal Customer Profile for the client and, finally, came up with an excellent idea.
We worked a lot on the research side of the process. We've been searching for B2B leads like Science Direct and Elsevier. We needed to find scientists working with plant breeding and variety testing. We were literally filtering out scientific articles by keywords and managed to craft a list of authors/prospects who deal with breeding and testing for our lead prospecting. As a side note, searching for prospects in unusual places allowed us to add extra personalization points to our outreach campaign, thus drastically boosting our email campaign performance.
We incorporated a very sophisticated domain/website approval procedure for adding new sales leads to our distribution list, as it was impossible for the client to provide a "do not contact" list considering the specifics of their operation.
Finally, Phenome utilized Belkins lead services to explore the possibilities to operate in certain regions, such as CEE, APAC, Latin America, Africa, etc. We've got a bunch of challenges doing this, as every region has its own mailing culture + lead research methodologies. For instance, for the CEE region, we utilized a unique outreach strategy that allowed us to send emails to the info@ mailboxes of the company and still get results. Why have we not been sending emails to decision-makers? Because farmers in the CEE region don't have a website, the probability they have LinkedIn with the list of people involved in breeding tends to be zero.
Knowledge Base Insights
Explain the technical aspects of the work you've done in detail: what is the process of addressing the challenges you've faced?
Research. We used scientific journals to search for professors dealing with plant breeding and variety testing. Technically, the main challenge was to come up with this idea and select the right keywords related to breeding and variety testing.
Outreach. We had to translate email templates into various languages to find business contacts in other markets like Italy, France, Germany, Spain, Ukraine etc. Also, we crafted a customized pitch that allowed us to handle the outreach in the prospect's language while an actual demo was in English.
Templates. A separate set of templates was prepared for the countries where our prospects had a low digital presence. As mentioned above, we used an info@ email address as an entry point and managed to get to the decision-maker by playing the "forwarding game" with our prospects. The tactic yielded a massive success due to its logic and a correct call to action (CTA) while contacting specific titles. We used the suitable CTA and never asked an assistant to discuss the breeding processes.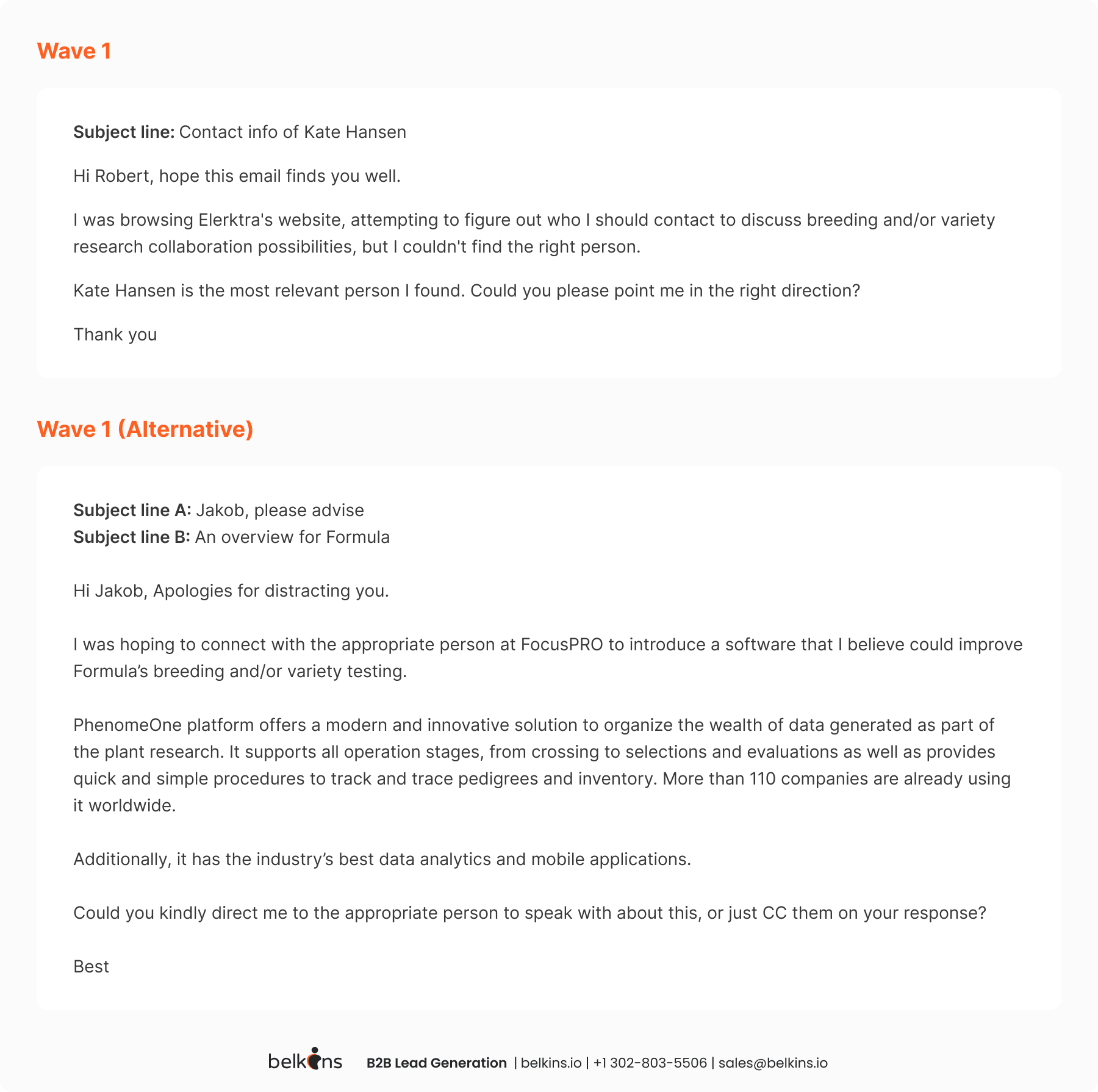 What knowledge has helped you in addressing the challenges?
Obviously, the knowledge in natural sciences helped us to come up with unique outreach tactics and properly formulate the client's Value Proposition.
Experience in outreach was obviously handy (*Yuriy laughing*).
What are the instances where industry knowledge is of no help?
I would say that the trick used for this project can be applied to any other industry. Obviously, you can't blind copy templates and research methodologies. Still, with a bit of creativity and following the same logic, you may build an extraordinary outreach campaign for any niche industry without a prior deep understanding.
What would you recommend to people facing similar challenges?
Think of additional sources you can utilize to get leads. Usually, you may rely on LinkedIn outreach to find some groups with the target audience. Also, consider industry-specific websites or even conference attendees. Make sure your research isn't limited to LinkedIn and AngelList.

Make sure to apply a high level of personalization to your outreach templates.

Finally, remember, there is no one-size-fits-all solution that you can utilize in the outbound outreach. Be intelligent and creative - this will help you stand out from the crowd.
Statistics
What did your weekly routine while working on this project look like?
We've been following weekly sprints. We had an internal call with the team to sync up on our progress over the previous week and outline the issues we discussed with the client on Mondays. An internal meeting was followed by a call with the client on a weekly basis. We presented our results and approved our to-do list covering the few upcoming weeks during our meeting. We were in a closed loop with the client over the week and reported on all tasks in real-time. As a result, we've had flawless communication and generated good results at the end of the day.
Choose a metaphor to describe the project in one sentence.
If you run into a wall, don't turn away and give up — figure out how to climb it!
Please sum up the main takeaways in one sentence.
Despite the laborious lead research and narrow Ideal Client Profile, we've managed to get a consistent flow of about ten appointments per month and have continued doing so over the next two years.