Applying hi-tech solutions is a must in today's business environment. You should stay in trend and utilize the most advanced technology if you want your sales funnel to work effectively. We've picked the top ten prospecting tools to make your life easier. But before you dig deep into the data we've collected for you, let's focus on some basic terms so that you understand exactly why you should apply sales prospecting tools and how your company can benefit from them.
How to Get Better Customers with Sales Prospecting Tools
Sales prospecting means identifying your leads' quality by comparing each prospect to your ideal customer profile (ICP) and finding out the degree to which they comply with it. The better the lead matches your ICP, the more likely they will be to buy from you.
Modern prospecting tools can help you significantly reduce the time spent on qualifying prospects. They will automate the tasks that you used to perform manually and, thus, streamline your overall productivity. Finally, your team will be able to dedicate their time and effort to selling services and products instead of searching the Web to figure out if the contacts are valid and whether they match the essential criteria.
Prospecting software will check all the background information, such as the right email address and the person's name, and select the most relevant data to address the potential customer's pain points and, thus, close more deals.
What Are the Benefits of Using Sales Prospecting Tools?
Today, there isn't a better way to boost your sales team's performance than applying progressive prospecting software. Your SDRs will love the new solution that will assist them with:
attracting the right kind of audience;

boosting the pipeline quality;

generating more leads;

closing bigger deals.
#1. Allow your team members to fulfill their full sales potential by getting mundane tasks off their shoulders. Such an approach will enhance the efficiency of each action taken by your SRDs, boosting accuracy and speed.
Here's what your sales team will get once they start using the tools:
Top-notch automated lead qualification.

Handy prospect list-building features.

Convenient database management.

Perfect understanding of the potential customer's needs and wants.

The most suitable communication style to match the prospect's expectations.

Robust outreach methods and approaches.

Powerful strategies to nurture your leads and existing clients.
As you can see, installing prospecting software has undeniable benefits, but you might wonder whether you'll get a really good ROI. Well, testing new approaches always involve certain risks, so we are eager to show you how you can mitigate them.
To begin with, you can try the new software for free to see whether it fits your business goals.
Paid vs. Free Sales Prospecting Tools
There are free sales prospecting tools, and they aren't the ones that offer a free trial to test the features. Free software has a limited number of functions that can be upgraded once you purchase the paid version:
HubSpot Sales Leads & Prospecting Software

LinkedIn Sales Navigator

Mention

Apollo.io

Google Alerts

Owler
Most free tools will provide you with email verification, a limited number of prospecting filters, and access to the leads database. The paid version typically includes more filters that can also be customized, if necessary. You will also get detailed analytics and automated email sequences.
#2.

In our opinion, however, free software is only suitable for brief testing. It does not provide a full picture of the possibilities that you can get if you go for a paid version. Thus, we recommend you to get started with the

best prospecting tools

that offer free trials so that you can test a wider scope of features.
Top Ten Prospecting Tools to Skyrocket Your Sales Team's Performance
1. Hunter.io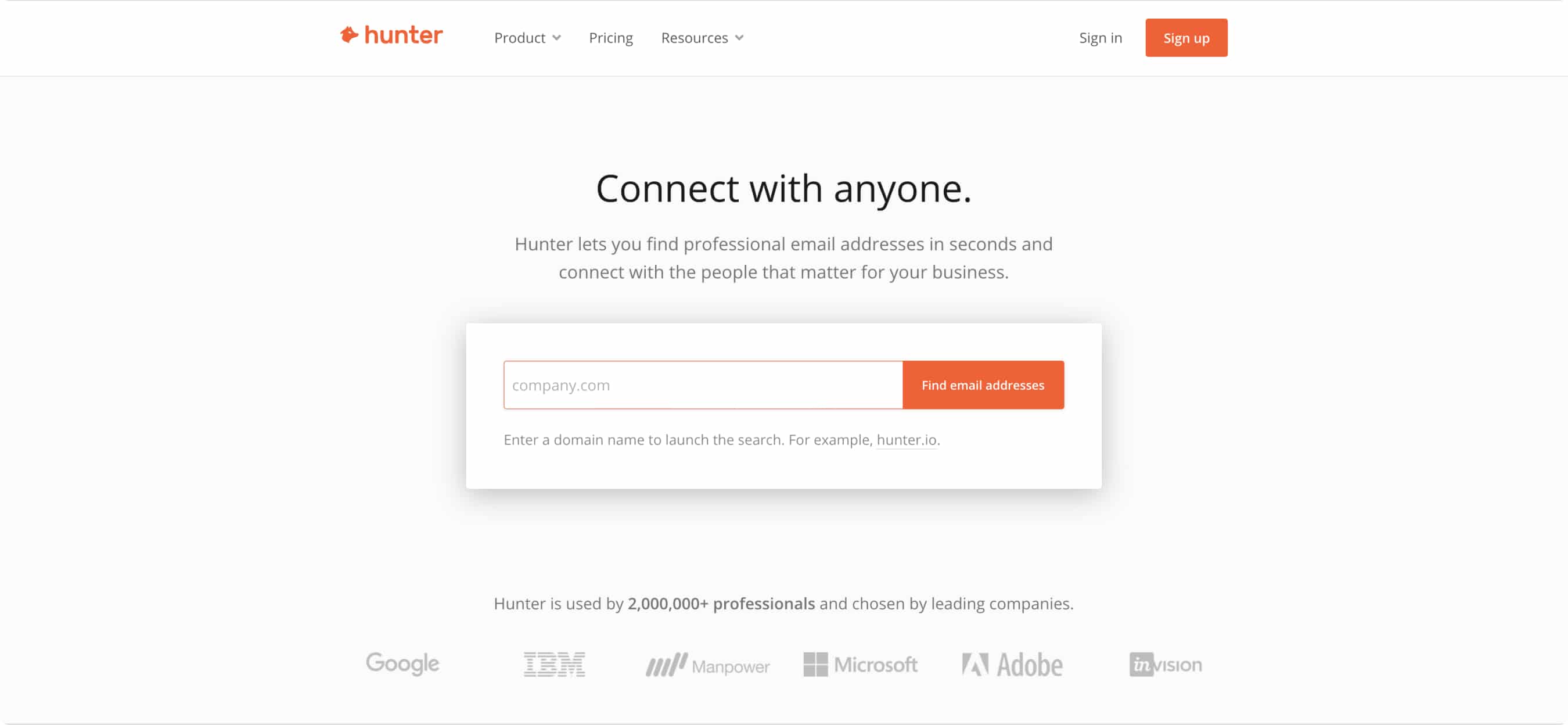 This Google Chrome extension will become your SDRs' best friend since it can find any email, giving a score on how likely this account is to provide a reply. But what if they face difficulties associated with fetching valid contact data? If so, the tool will provide your SDRs with a list of possible addresses so that they can try them out and test the most appropriate versions. Moreover, your team will love the Google Sheets add-on collecting numerous emails — all the addresses linked with a particular domain will be copied to the document automatically.
Pricing: from $39/mo; the first 100 emails come for free.
2. Leadfeeder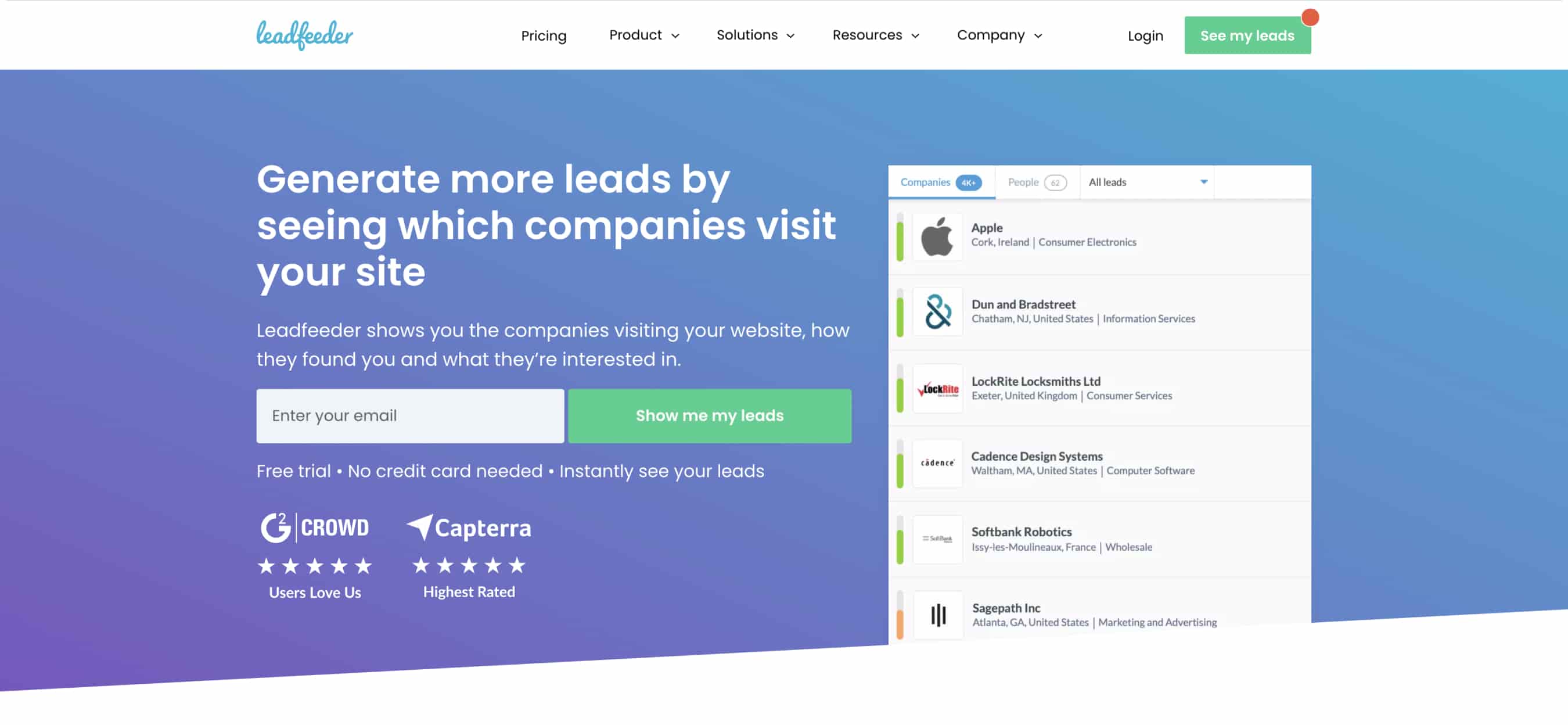 Leadfeeder is one of the best prospecting tools to reveal your potential buyers' intentions and collect essential information, such as website visits by the company, with the help of the Leadfeeder Tracker script. You will be able to get the recent contact data within seconds, schedule excellent outreach campaigns, and considerably increase the engagement rates.
Pricing: from $55/mo; 14-day free trial.
3. MatterMark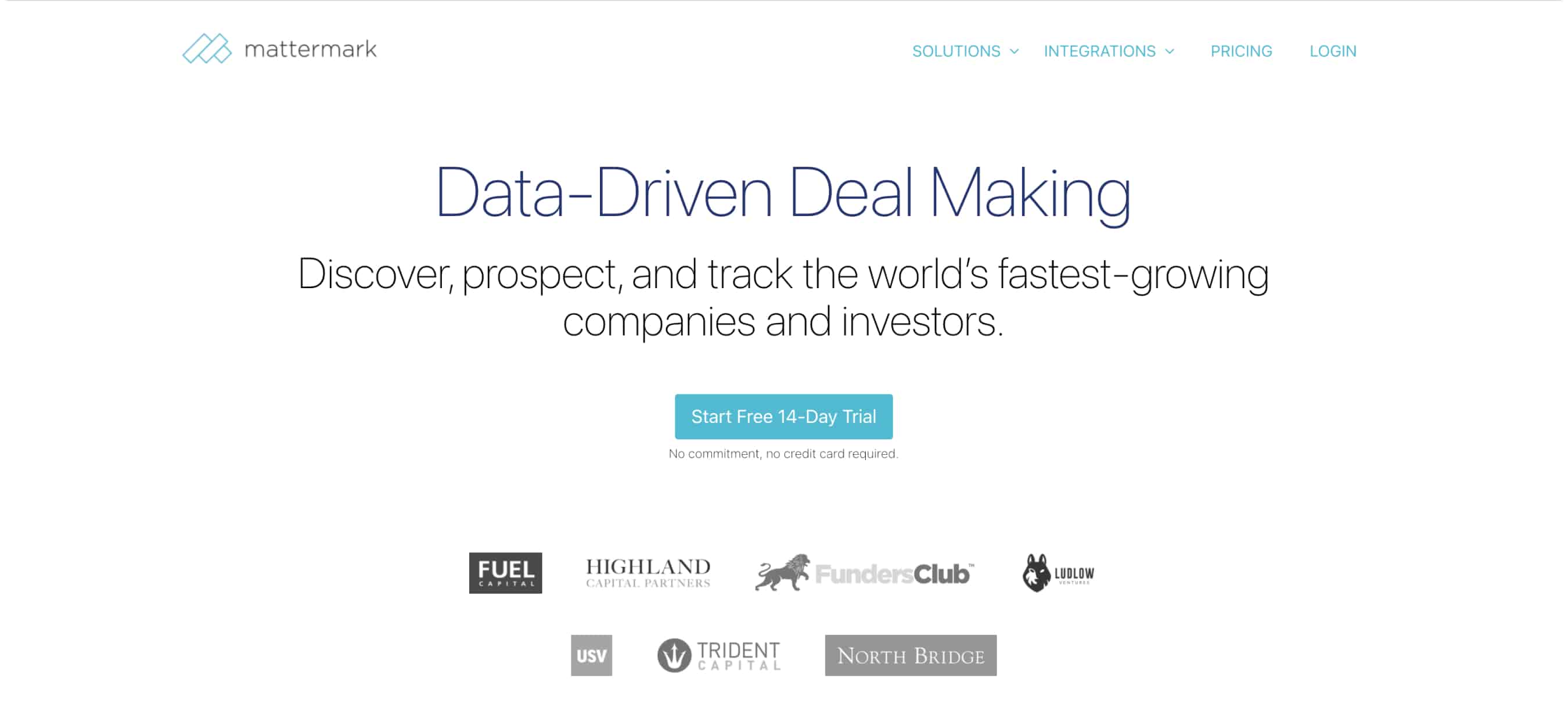 This software provides a vast number of criteria to conduct a profound research, such as location, niche, company size, budget, and many more. Additionally, you will be able to synchronize this tool with Salesforce and create different lists that will be saved automatically. The same rule applies to search results.
Pricing: from $49/mo; 14-day free trial.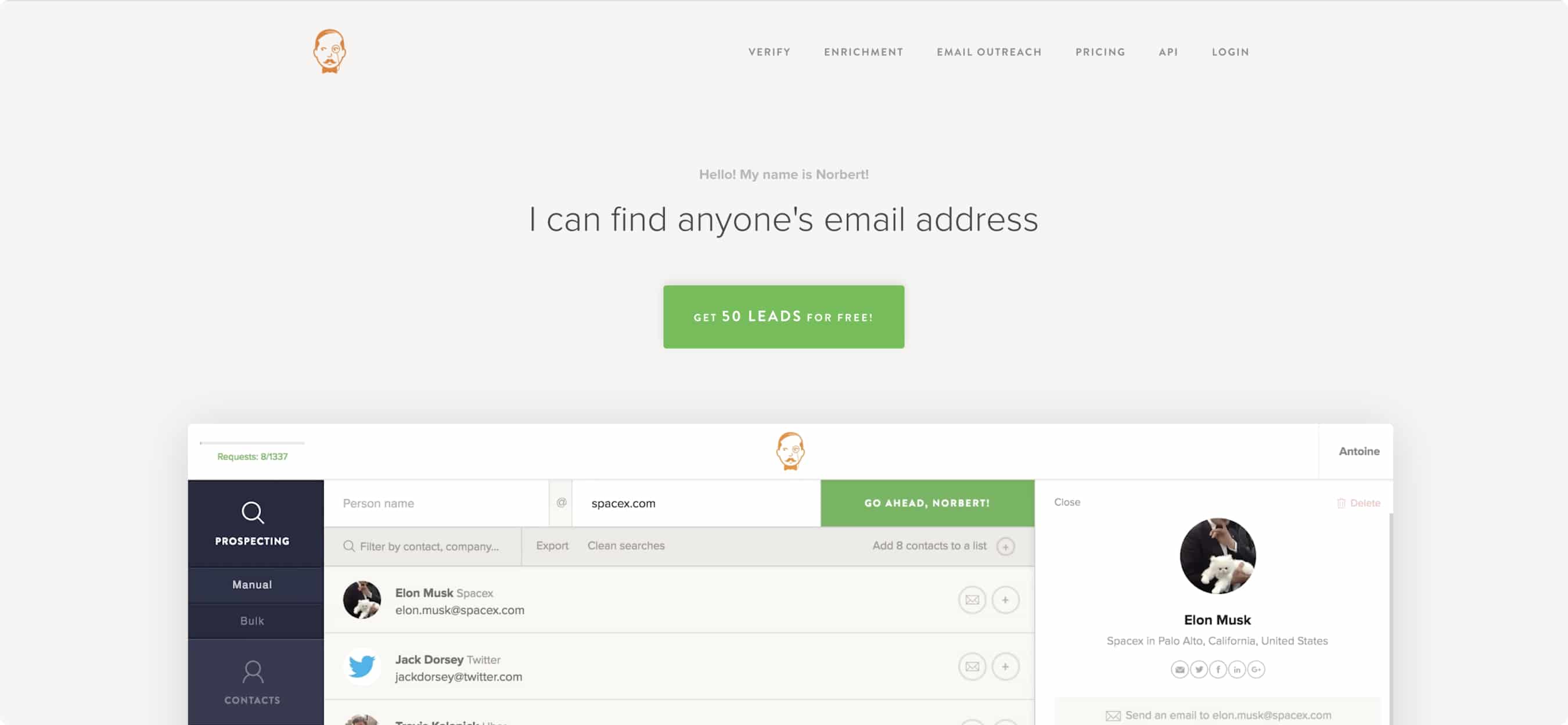 With Voila Norbert, you will be able to fetch numerous customer details by typing in the person's name and the company they currently work for. Feel free to use the Gmail plugin to launch perfect email campaigns, send follow-ups and reminders.
Pricing: from $49/mo; free to find up to 50 emails.
5. Zoominfo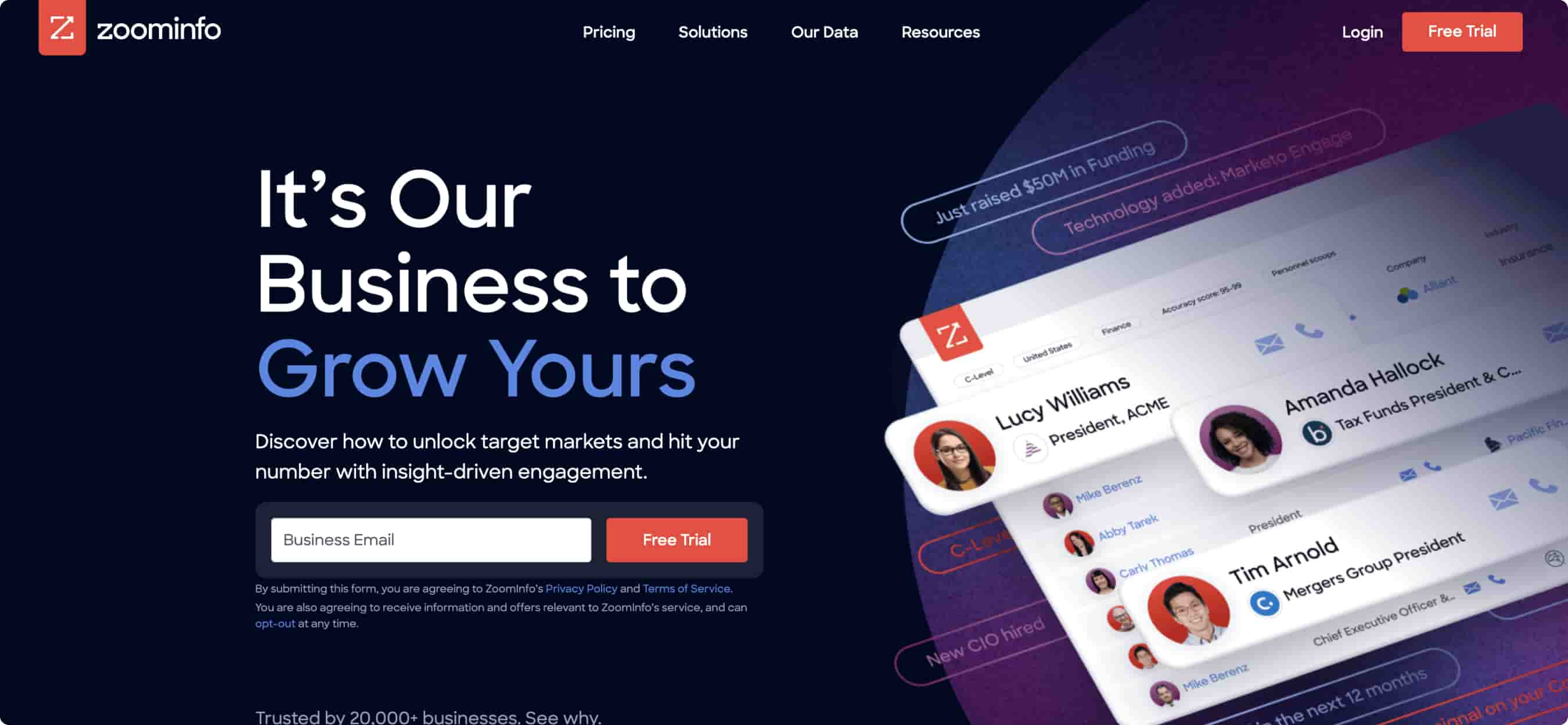 It will be very easy for you to qualify a lead once you start using this enormous database. You'll be able to get some generic details, such as business size, as well as more specific data, such as your target client's current email address.
Pricing: customized pricing; free trial available.
6. Vainu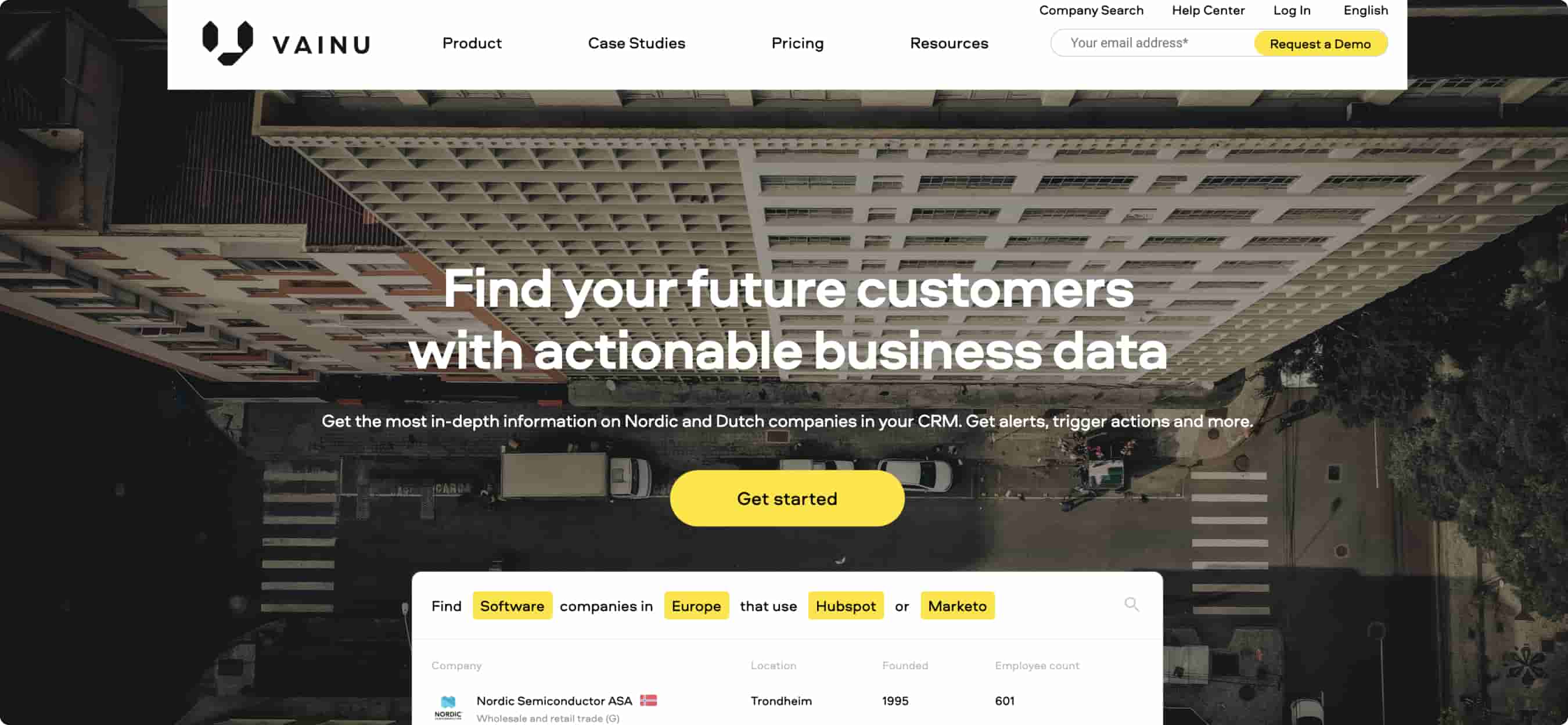 This sales intelligence platform will make sure that your company gets only high-quality prospects. There are over 100 filters to sort out the inappropriate candidates and see who is your best fit. Also, it is possible to follow any list of your potential clients and provide a timely response once there's an opportunity to bridge the distance.
Pricing: from 6,600€ per year; free trial available.
7. Datanyze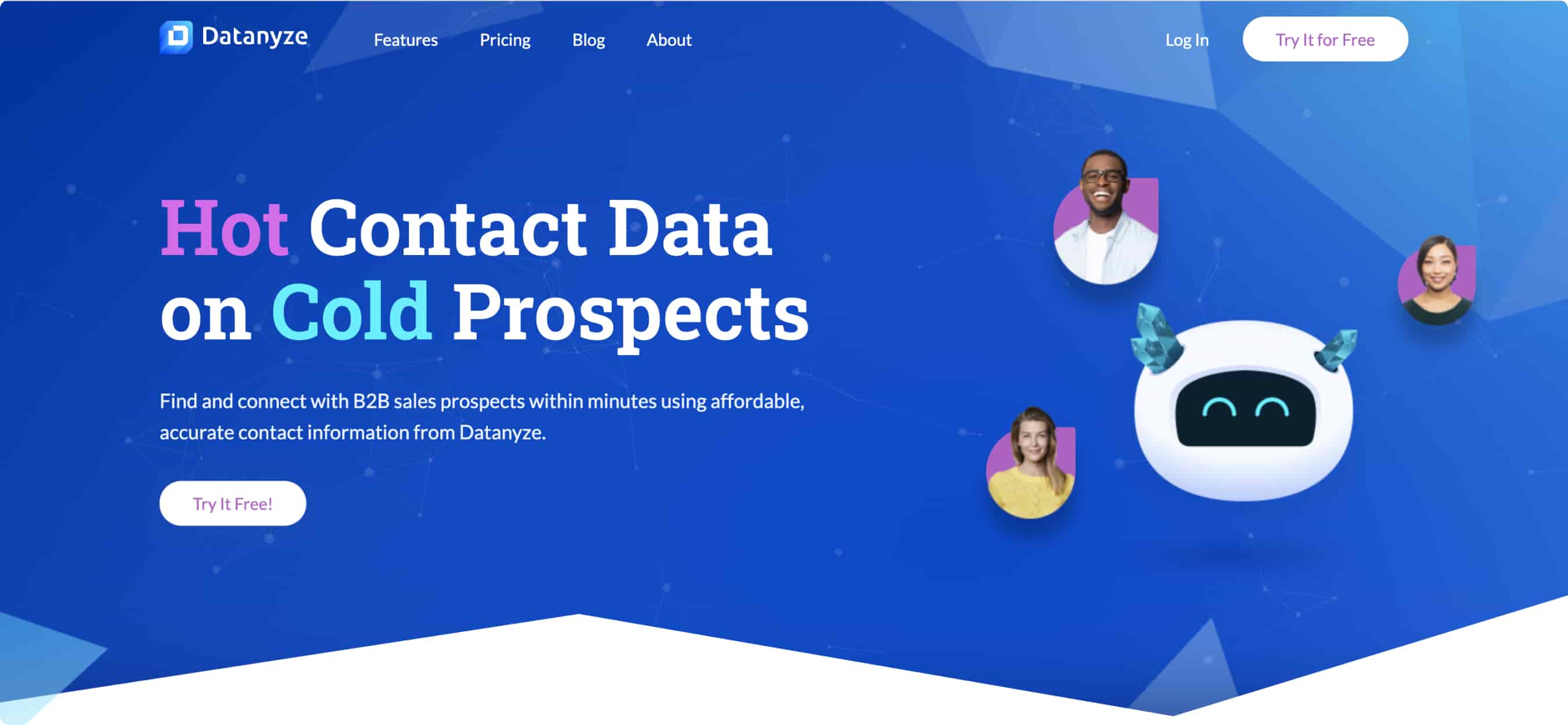 One of the most advanced network marketing prospecting tools, Datanyze will unlock crucial customer data in just one click. For instance, you can find out what technology your leads are applying, how many people work for their company, and what social media channels they use to stay in touch with their clients. All you have to do is visit their website, and the tool will do the rest.
Pricing: starting from $39/mo; 90-day free trial.
8. CrystalKnows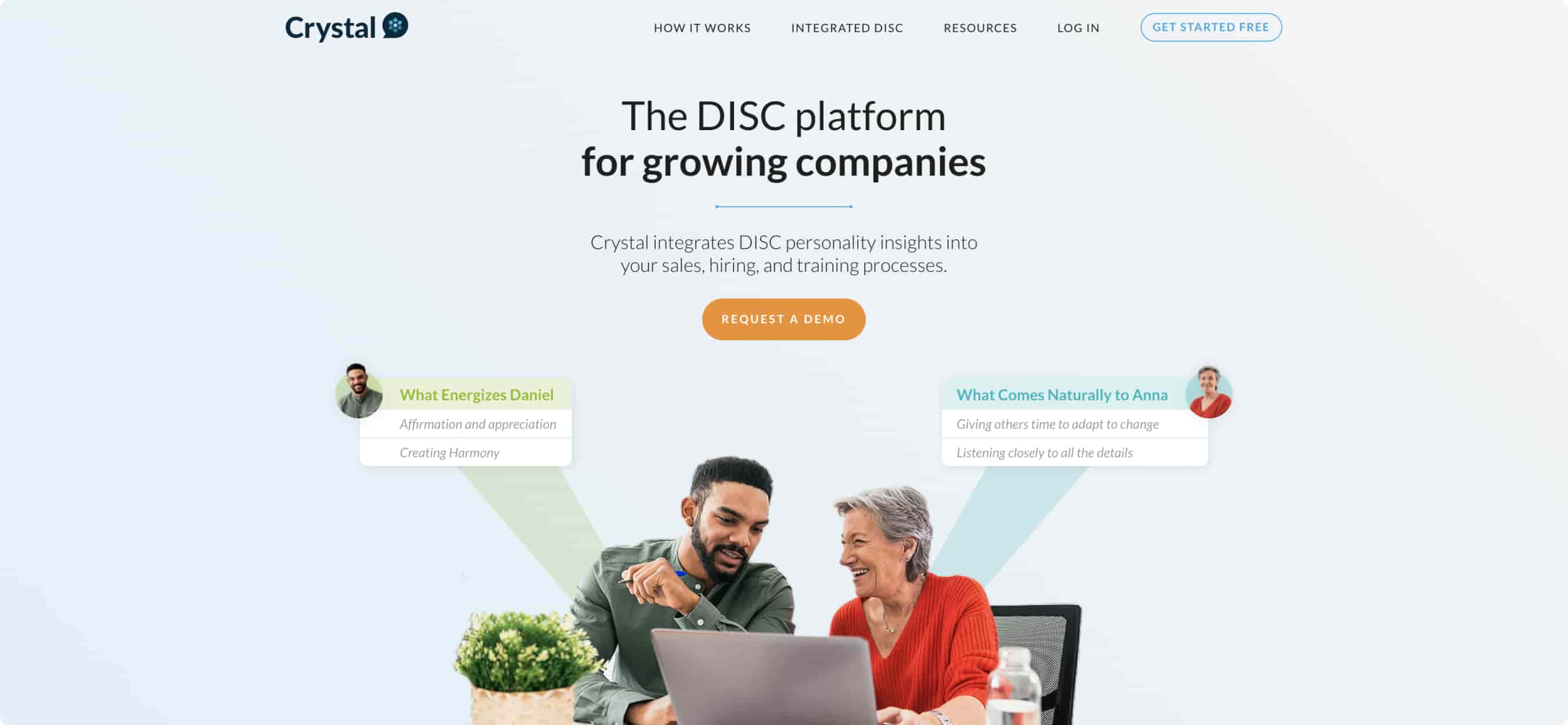 This tool allows for a high degree of personalization, collecting data from open sources and providing a deep analysis of any person's profile. Apply its unique algorithm to find out what communication style your prospects prefer and what behavioral patterns they reveal. Furthermore, utilize the Gmail plugin to get real-time suggestions regarding the recipient's personality type and preferred way of interacting.
Pricing: $29/mo; free with a limited number of views per month.
9. FindThatLead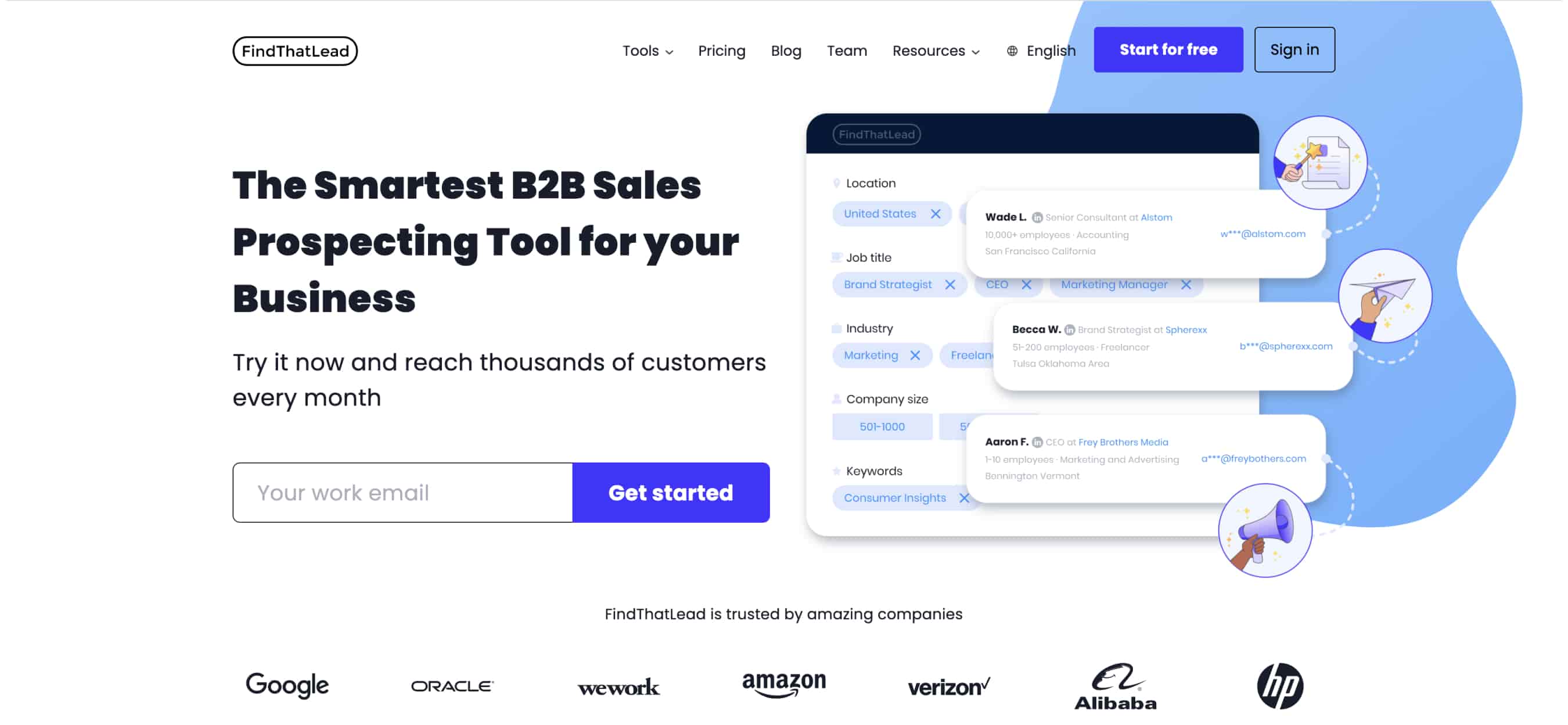 The only thing you have to do to get contact information with FindThatLead is to enter your prospect's domain name. What's even better, you can use the Chrome extension to find the emails right from your browser.
Pricing: from $29/month; free up to 150 credits.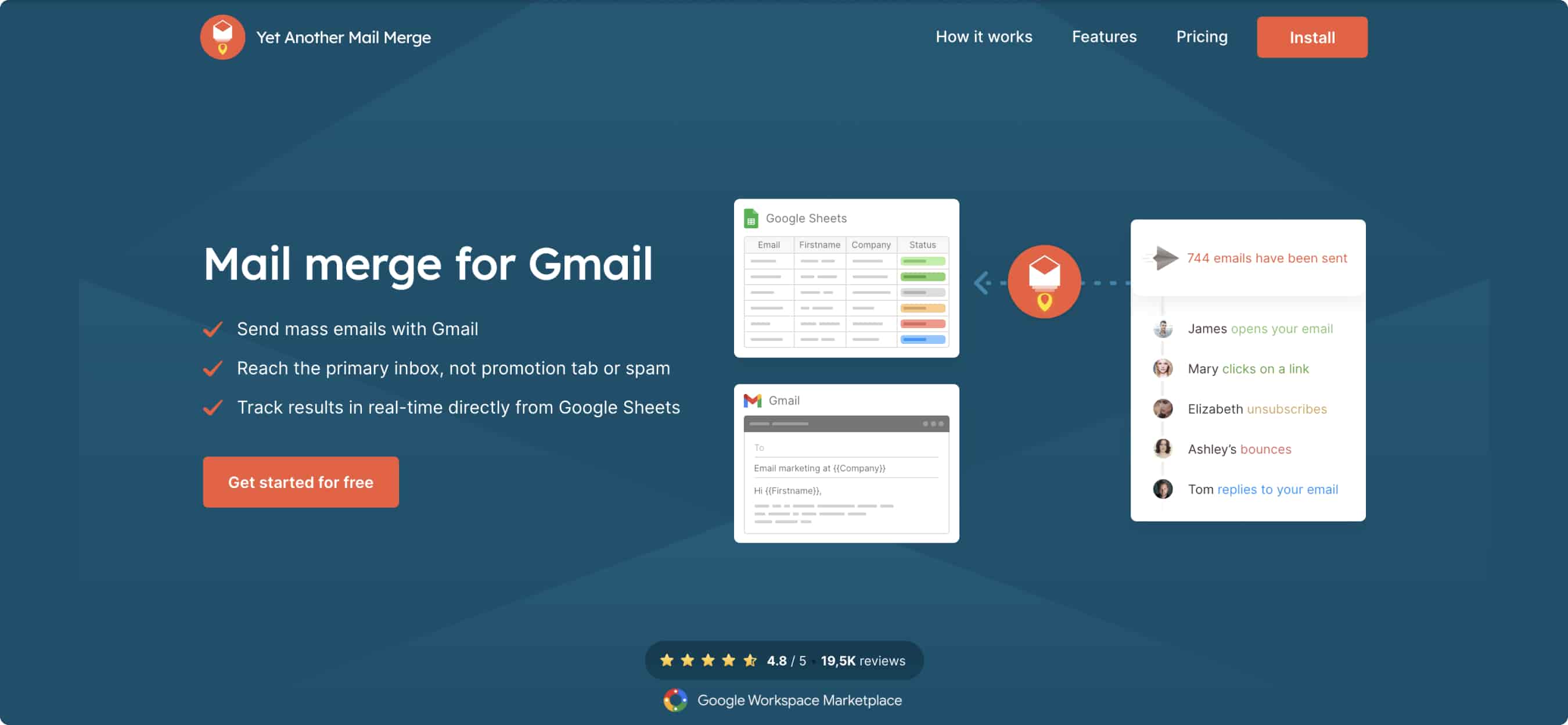 This tool will help your sales team launch better email campaigns. First, your SDRs will be able to personalize the messages by utilizing unique features. Second, the tool will allow them to send bulk emails, and, finally, you can synchronize it with Gmail and Google Sheets to track who opened them.
Pricing: from $24/year; free up to 50 emails/day.
10 Tips for Effective Sales Prospecting
Sales prospecting isn't a one-time event but rather an ongoing process that should be forward-looking. Therefore, it's very important to break it down into particular steps and treat each one with care and precision.
Belkins experts deal with lead qualification all the time, so they shared top-ten useful tips on how to make the most out of your efforts:
Never prioritize quantity over quality.

Don't launch any campaigns until you've qualified your leads according to your ICP.

Personalize, personalize, personalize.

Create a list of channels that are most widely used by your prospects to reach out.

Speak your potential customer's language.

Cold leads should be warmed up — don't quit too early.

Build social proof by providing expert advice.

Send only relevant content to your prospects.

Encourage your clients to provide referrals.

Apply marketing automation to speed up each process.
Want to learn more about Belkins and the technology it's using? Stay tuned.
Business Prospecting Tools at Belkins
At Belkins, we use a mix of most tools we've mentioned in this article to provide professional help with sales. Our expert team has already helped over 790 customers acquire excellent leads and scale their business. We're waiting for you to join in and get top-quality prospects — so don't hesitate to reach out to ask any questions or discuss our possible collaboration.