Problems
We needed to compensate for a lack of leads. Each sale added to the total growth of the company. Attracting new resources was a must.
The client invested in hiring, training, and organizing their B2B sales leads teams and task systems. All sales managers manage every stage of sales communication, from taking a call to leading customers through their buyer's calls.
The client's sales department works in synergy with the marketing department. Within that, the marketing department is responsible for exploring possible lead generation directions and strategies. The sales teams covered the execution of lead generation tasks related to B2B communication.
The efficiency of this model, however, met the following setbacks:
1) Need for new leads
The client used three main lead generation channels:
SEO.The client created landing pages with highly optimized content to increase their rank in Google SERP and to gain more online visibility;
PPC.The client engaged in ad placement on Facebook, Google, and other online platforms, aimed at increasing and maintaining the online presence of their brand;
Cold emails.The client developed cold outreach emails to explore possibilities for cooperation with a wide range of potential customers.
All business to business lead generation channels showed approximately identical results.
Lead Generation Channels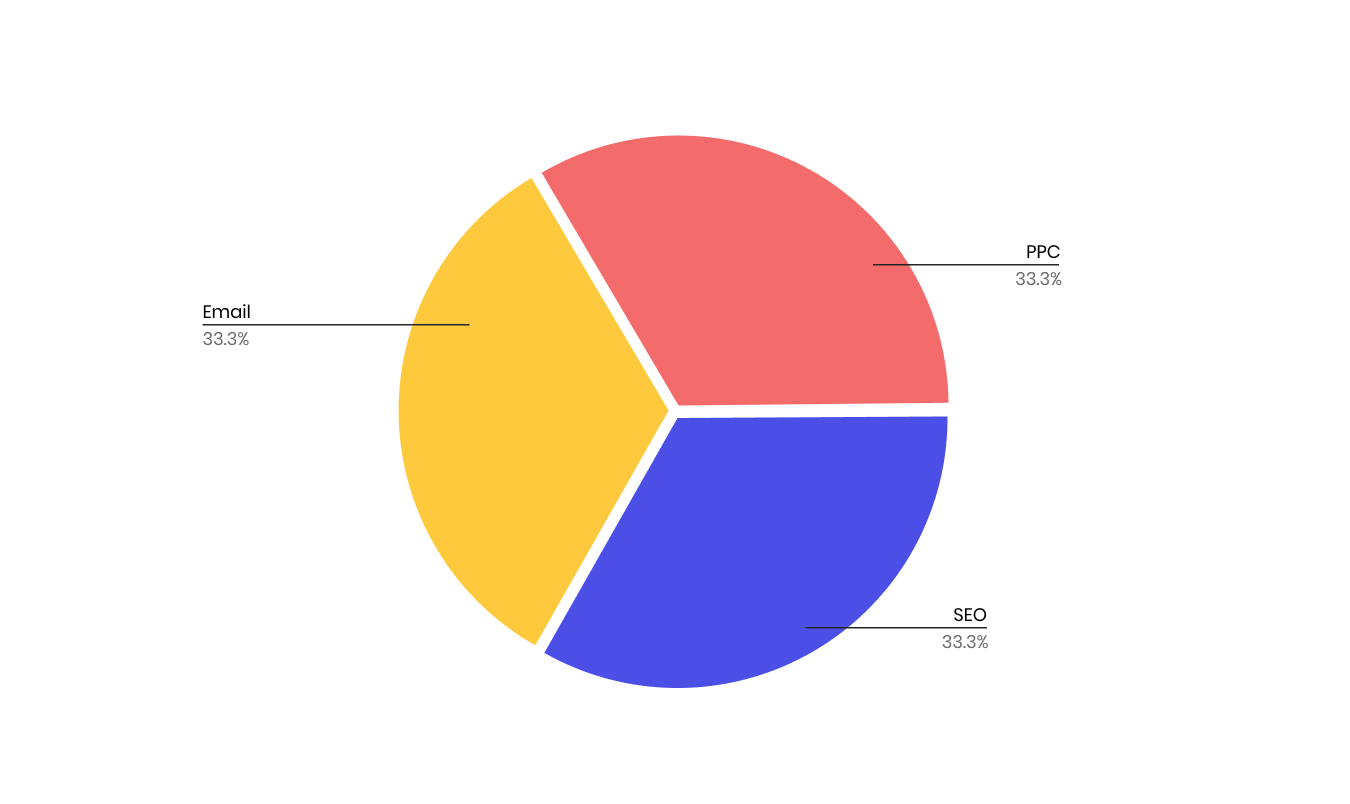 These results were not enough to meet the high KPIs necessary for advancing up the growth map, long-term.
This situation is not uncommon for B2B sales leads generation. After sending emails to 100 prospects, only one or two prospects will be nurtured into making an appointment and closing a deal. To increase the close rate, it was essential to fuel the sales pipeline with more high-quality leads.
2) Need for email outreach management
B2B email marketing was an important part of the company's lead generation activities, but it lacked dedicated experts.
Why is it important? In order to deliver satisfying B2B appointment-setting rates, email outreach should cover all of the following processes: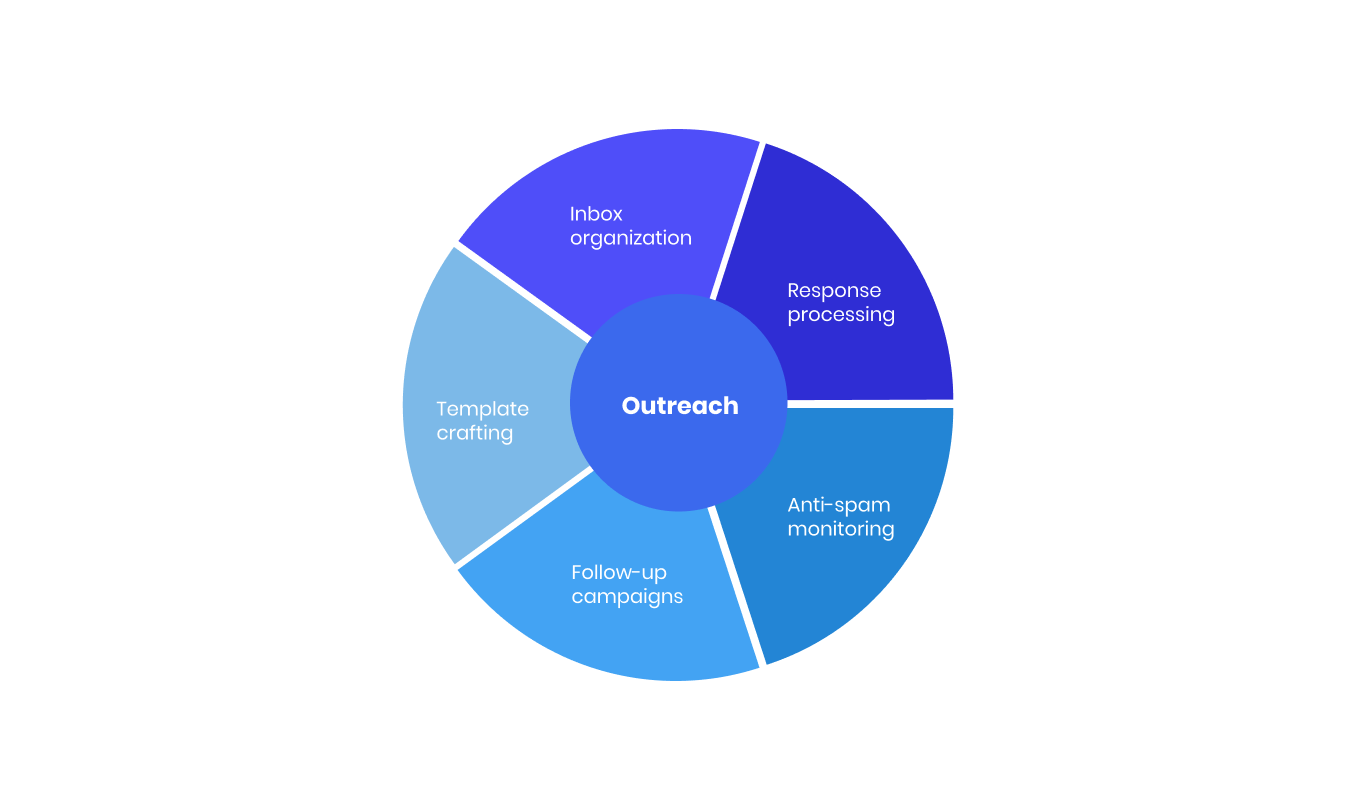 Each of these tasks requires time, research, and human resources. Assigning them to teams from other departments can negatively impact team performance and put extra pressure on your employees. Hiring and training professional teams for working with B2B marketing consumes even more time and money.
Therefore, the client went for the least complicated and the safest option: to hire a team of trained experts from a third-party company specialized in B2B sales and communication.
What we did
Our and Belkins' work models are almost identical.

1) Research
Since Belkins' work processes were almost identical to the workflow at Andersen's in terms of research and approach to sales, we were provided with a detailed Ideal Customer Profile and customer data. This data forms the bedrock for sales and email campaigns. The more detailed the ICP is, the more data our Lead Research teams could deliver to our Support teams and copywriters. We always invite clients to outline every part of their perfect customer in their ICP. The default criteria are the following:
Industry;
Company size;
Location;
Customer base;
Current goals;
Tech stack.
After discussing goals and targets with the client teams, we performed an in-depth analysis of the client's market:
We researched the client's industry, its pain points, and the most common customer behaviors across a wide range of locations;
We analyzed the client's customer base, email domains used for outreach and targeting objectives;
We evaluated the efficiency of the current email sales templates and each lead generation channel. After that, we made a list of recommendations for the client's direct email campaigns.
2) Email outreach
Inbox optimization
After analyzing the client's mailbox management system, we created Gmail inboxes on the client's business domain and optimized them for outreach. It's an important step that should precede all outreach efforts. The quality of future email campaigns is defined by:
1) Domain.
In B2B communication, sending emails from public domains harms the credibility of the sender. Using custom email domains for business increases trust and prevents your emails from being labeled as spam;
2) Volume.
Every inbox has a sending limit that can be increased by performing activities that boost your Sender Score —not sending too many emails at once, not exceeding the existing sending limit, opening incoming messages and marking them as Important, etc;
3) Sender's info.
Every sender's profile must include their real name, their ID photo, and their business data and every email must feature a business signature containing the information about the company. Accounts with a fake name, fake contact data, and location data get redirected to a spam folder or penalized by the CAN-SPAM act.
Template crafting
The client specialized in email campaigns targeted towards scheduling F2F meetings at the prospective buyer's offices. The main goals of F2F email campaigns were the following:
To ask prospects about their availability for a meeting;
To motivate prospects to share their concept of the software development team they want to work with;
To outline the key benefits of the client's company in a way that would appeal to each prospect individually.
The tricky part about F2F email campaigns is this type of email requires an awareness of the prospect's status and an opportunity for meeting sales executives, as well as the use of Calendly and similar tools. The order and date of meetings should be arranged in a way that would allow one sales executive to cover multiple appointments in one trip.
Outreach and monitoring
We started the first month with testing. After writing separate sets of customized English and German templates, we launched A/B testing email campaigns for the prospects located in Germany and Austria.
Why is A/B testing important? It injects a much-needed clarity into a B2B strategy and allows you to implement valuable modifications at the earliest stage of the sales campaign. In the case of campaigns for Andersen, it was important for us to know what language is better received.
In total, we sent over 1,000 personalized emails for each campaign. We monitored our progress closely, keeping the client updated with weekly reports that contained metrics about recent and overall campaign performance.