Problems
BytePitch reached out to Belkins in order to solve the following issues:
No established sales process.

BytePitch had a great experience with technology and software development; however, it lacked a solid sales channel and a detailed customer's journey.

It was impossible to shape a full sales funnel and manage leads with top efficiency without these vital components

.

As a result, BytePitch wasn't getting new clients.
Pre-sales management issues. The founder of BytePitch had to manage all pre-sales processes personally. However, the pre-sales stage requires copious amounts of time and effort in order to be productive and deliver results that can boost sales campaigns. Pre-sales should be managed by experts who can fully commit to the task.

Since the founder had to cover many other processes, the results didn't meet the expected KPIs.
What we did

1) Lead generation research. Research is an obligatory step of any sales campaign that we launch for our customers. Within this stage, we achieved two goals:
Mapped the client's ICP.

We investigated the business culture of BytePitch and outlined the qualifiers that the company used to determine its perfect customer. These qualifiers included: company size, revenue, preferred software type and location.

Introduced the client to the concept of lead generation. Working closely with the BytePitch team, we walked them through each stage of lead generation, explaining how it works, why it is necessary, and how it can improve the end results for the company.

Thanks to this stage, the client became aware of the goals and was able to visualize the customer's journey from the first contact to an actual appointment setting and making a deal.
2) CRM setup. Together with the BytePitch team, we set up a customer relationship management system for tracking every lead entering the sales funnel.

3) Channel testing. After building the foundation, we were able to proceed with finding the best approach for the BytePitch. We looked for a B2B lead generation channel that would let BytePitch connect with the right decision-makers in the right industry and gradually nurture a mutually beneficial relationship.

In the course of our testing, we figured out that LinkedIn messages in conjunction with email outreach are the best option for BytePitch.
LinkedIn is a massive platform that unites businesses interested in modern software development. It allows creating a community where people exchange their thoughts, ask for a consultation, and discuss industry pain points.

Business owners can communicate with potential customers on an everyday basis, dive deeper into their problems, and figure out the best way to present their products and services.

Email outreach is the most efficient and non-invasive way of communicating with prospects.

It allows us to build the right pace of conversation, exchange marketing materials freely and nurture recipients into making a deal.

It's a natural next stage after LinkedIn messages because LinkedIn InMails don't provide that much flexibility and can be used for the first introductions only.
4) Website update and review platform. In addition to establishing a sales channel, we motivated the client to update the website and create a page on Clutch, so the users could leave reviews and share their opinions about BytePitch services.

5) Troubleshooting. As we set our plan in motion, we found ourselves struggling with appointment generation. Since BytePitch was a small startup, our initial appointment rate was quite low. The volume of appointments wasn't enough for the client to start closing deals. It's a common issue for small businesses that operate in a competitive niche. To grow, they need to generate a great number of appointments because only a fraction of those appointments get turned into deals. However, high competition levels and the presence of large companies offering the same services make this objective extremely challenging.
We took the following measures to address this issue:
Grew BytePitch LinkedIn presence.

We used our experience in LinkedIn marketing to highlight the BytePitch founder's expertise in the field, promoting his LinkedIn profile, publishing trending content and focusing on building a follower base that would be interested in his professional opinion and want him to explore their issues and provide a recommendation.

Personalized emails and LinkedIn messages. We tested different templates, personalizing them to meet the needs and preferences of the client's target audience. Our goal was to speak the most appealing language when reaching out to BytePitch prospects.
Results

Establishing a sales process for BytePitch took around a year and a half. Within this period, we observed the following changes.
Increased appointment rate. Currently, BytePitch generates 10-15 appointments every month. Out of these appointments, the client closes at least three high-value deals. It's a positive result, given that both sales and pre-sales processes are only one year old. With further message personalization, these results are guaranteed to grow.
Higher open rate. Since our team participated in building a sales channel, we managed to secure a 49% open rate for BytePitch, eliminating the risk of bounces and making sure that every message sent by the client would always find the intended recipient.
Stable sales pipeline.

After building a sales pipeline, we started securing more opportunities from the target industries. Currently, there are around a dozen of appointments with high-value clients that are nurtured by Belkins and BytePitch teams.

Better brand awareness. With an updated website and presence on Clutch, BytePitch gained more visibility, allowing potential clients to evaluate its benefits and be more comfortable when reaching out to the BytePitch team.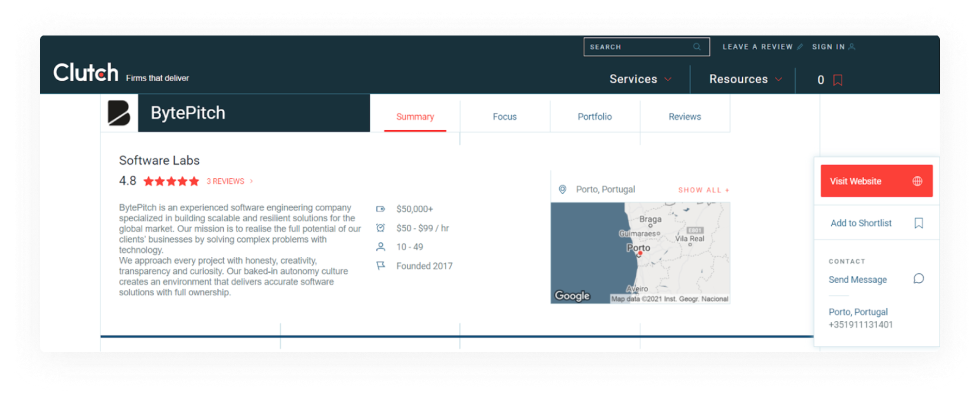 Key takeaways
Think big, even if you're small.

If you have a small business, you should work on multiple marketing aspects before you start building a sales process. Make sure that your potential buyers can visit a top-notch website that has no download issues and no broken pages. Create a LinkedIn page for your company to participate in the dialogue with fellow experts and document your achievements. Be a credible company from Day 1.

Set up a proper workflow.

Don't leave your sales process to chance. Map it out, understand how they enter your sales funnel and how you want to convert them into customers. Write a sales pitch to personalize your approach to your prospects.

Use several channels to boost your results.

Don't rely on just one sales channel. Some of them make a great combo. However, each industry has its own specifics, so take your time to research available marketing methods and see how they can boost your productivity.

Don't neglect social proof.

In competitive niches, feedback from clients is the only thing that can really set you apart from your competitors. When people share their experiences, describe what kind of issues you helped them with and highlight the positive changes they saw after working with you. It impacts your target audience in a way that can't be mirrored by a flashy website design and expensive marketing campaigns.
Video Testimonial