Problems
The client was in no shortage of ideas, sources, and knowledge. To implement them properly, the client required assistance with the following:
Highly specific lead generation. The client had a set of quite complicated criteria that needed to be followed qualifier-to-qualifier. Generic databases and superficial research weren't enough to satisfy that need, so the client started looking for experts capable of producing unique hand-curated lead data.
Workflow organization. The outreach process at Deluxe Modular lacked the structure necessary for making the most out of the client's insights and ideas. That created a necessity for an acquisition partner with immense experience with optimizing cold outreach workflows and building business inboxes.
Spam issues. The client wasn't satisfied with the current deliverability and looked for the means to increase the number of opens and make sure that all business emails reach intended recipients.
Data gathering. Understanding the importance of viewing and comparing, the client wanted to measure and compare stats to get a clear picture of the viable solutions and strategies.
What we did

Building a clear process of lead generation. The client had a very detailed Ideal Customer Profile, so our research team was given plenty of search data. Being tasked with targeting entrepreneurial real estate developers and niche healthcare providers, we started our lead research from scratch and had to narrow it down considerably to match the unique criteria presented by the client.


Deluxe Modular was looking for leads with a specific behavior, hierarchy, and at a very particular development stage.

The client targeted across the United States, showing particular interest in the "Cinderella" cities i.e. areas where businesses had to deal with extremely high costs of construction and needed a truly flexible value proposition. That amount of detail had its benefits and pitfalls.
On one hand, we received as many unique search qualifiers as possible, making it easier for us to separate apples from oranges and pick out the most relevant leads.
On the other hand, the research took twice more time than usual due to extra steps we had to take to ensure that our hand-picked leads are 100% viable. Those extra steps involved qualification from SDRs and intense activity research.

Developing an outreach campaign. We built an entirely new outreach campaign to make the most out of our freshly built lead database. The campaign branched out into several directions - we made an individual set of templates for ground-zero leads, website visitors and segments from the client's previous lead database. In order to fully capture our prospects' attention, our copywriting team wrote several sequences with multiple variables.

After getting a response to our introduction emails, we asked around 3-5 qualifying questions. Only then were we confident enough to book a meeting. It's worth noting that since we were operating in a highly conservative industry, some of the prospects we engaged chose to call us immediately, skipping the email correspondence. Dealing with prospects that are eager to talk is a very positive thing but it needed a bit of adjustment. Thus, we created an individual pattern of information exchange and also made sure to remove calling prospects from our email campaigns.

Solving spam issues. We used Folderly to monitor the client's performance. Additionally, we used our newly-made and warmed-up mailboxes to increase open rate and response rate while reducing the chances of being marked as spam. An in-depth look into email deliverability together with our knowledge of mailbox optimization

allowed us to establish a steady sending pattern and stabilize our client's Sender Score.

Data gathering. Our weekly and monthly reports kept the client supplied with necessary lead data and statistics, allowing to inject more efficiency into the strategies for Deluxe Modular and expanding the opportunities for the company.
Recent responses breakdown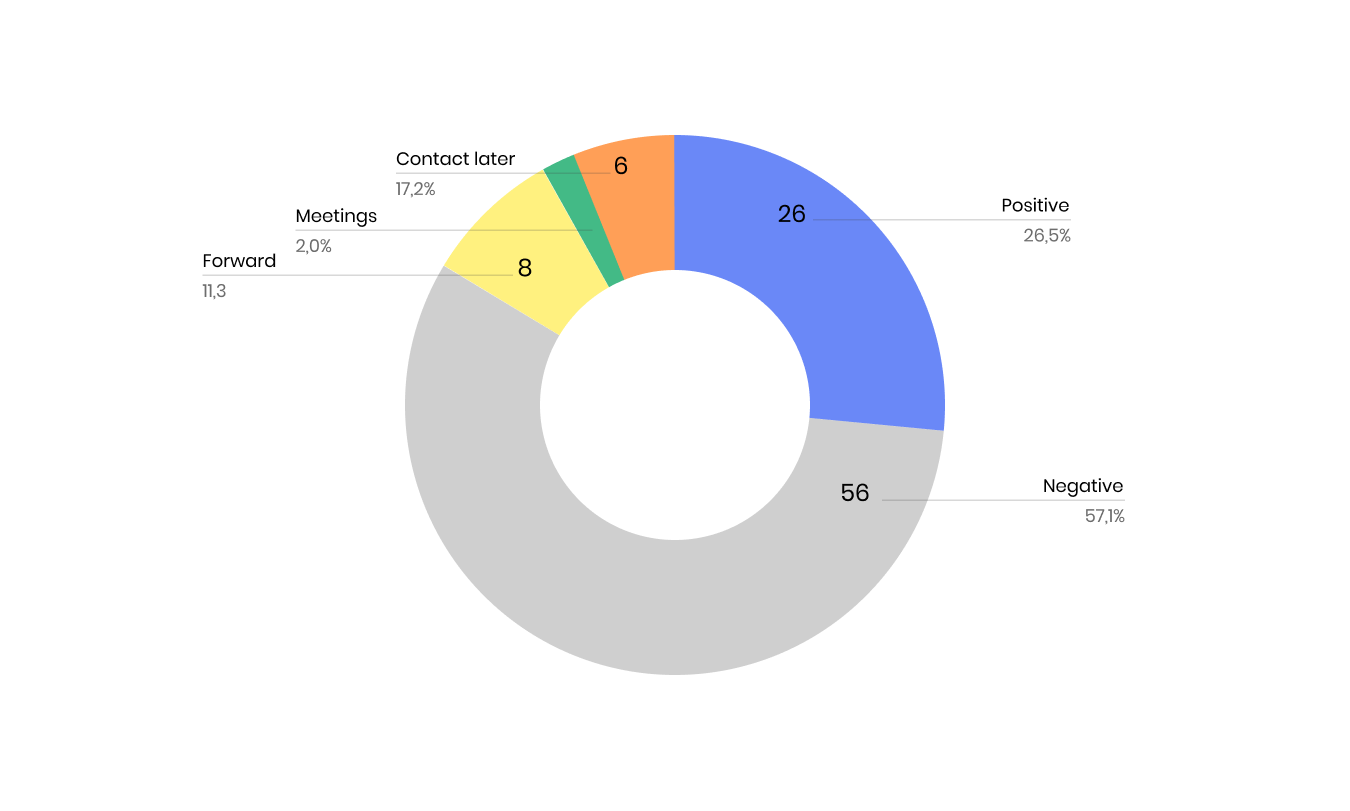 Overallresponses breakdown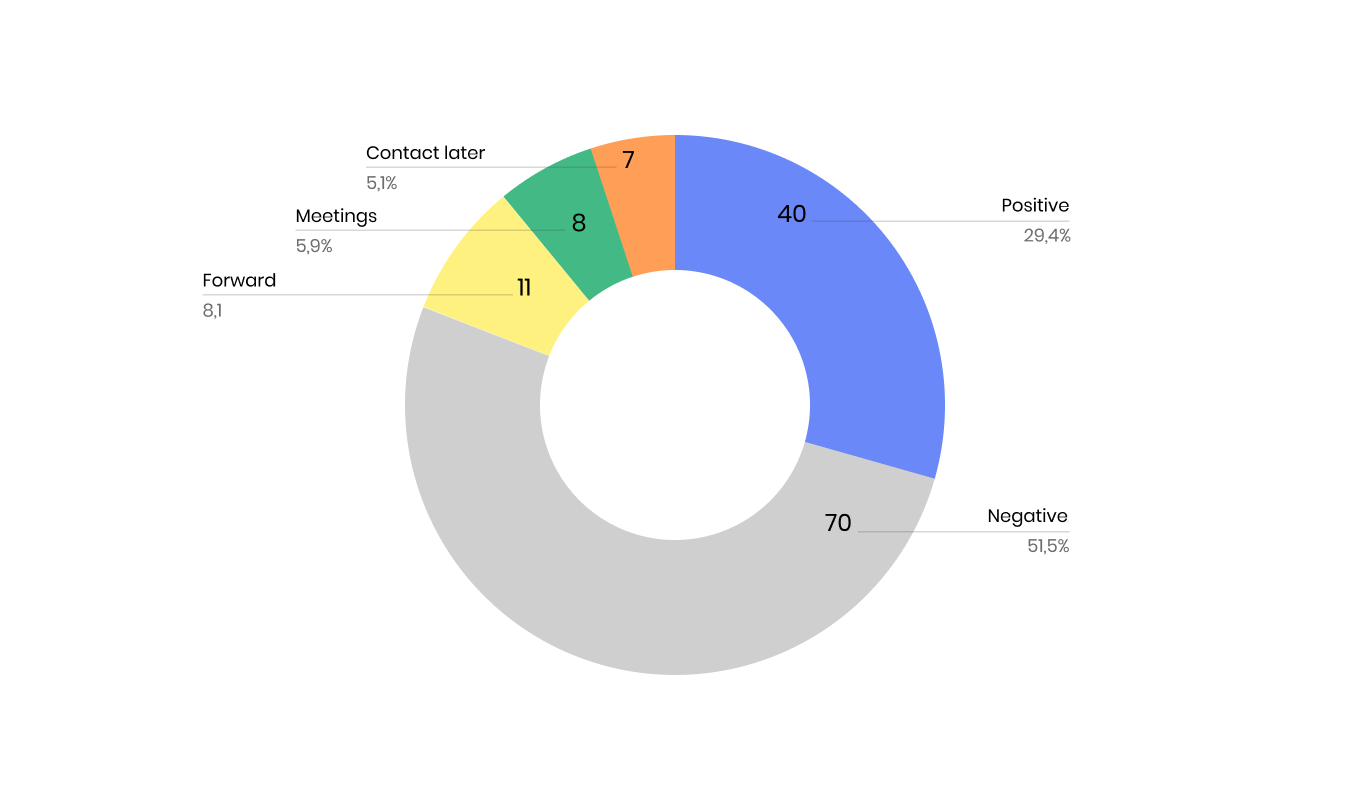 Results
By the end of the first month of cooperation, we got detailed data about our 3 main niches, clear and understandable statistics, 8 appointments and more than 10 leads for follow-ups.

After establishing a stable outreach process and sending customized B2B emails, we scheduled 30 appointments. Such a productive result is indicative of a successfully chosen research and outreach direction:
We targeted right leads at the right development stage, when their interest in the client's unique value proposition was at its peak.
Our A|B testing and tailoring allowed us to bring out the most valuable aspects of the client's offer, creating an opportunity for B2B relationships. In addition to 30 appointments scored, we secured around a dozen of ongoing conversations each month, providing our client with ripening deals in the nearest future.
We saw an increase in the average positive response rate, meaning that new templates get more opens and are actually interacted with. The number of negative responses is also a good indicator.

The client's email outreach process was optimized enough to hire an in-house sales team. Prior to cooperation with Belkins, Deluxe Modular didn't have a sales team to handle and manage sales momentum. However, with a pattern established and implemented, the client gained the insights necessary for managing the process personally.

Key takeaways
This case shows that knowing your Ideal Customer Profile can make so much difference.

The more aware you are of your target audience, the more detailed your research is

, the easier it would be for you to instruct your outsourced sales team on search qualifiers. Be as precise as possible with your criteria - research teams may need more time to glean the right leads, but the end result will be worth it.
Sometimes finding highly specific leads will end up with you building a special approach to the way you research and glean data.

Don't hesitate to include SDRs and marketing experts to your research

because they will be able to provide additional qualification and verify your leads. The more effort you put into your search, the more appointments you will be able to score.
If you have gathered enough data and information about the markets of your target audience, your next step is to hire an outsourced team to make sense of that data, develop campaigns, sales strategies and build optimized mailboxes.

In a few months, you'll be able to see your performance stats and numbers

, which will let you decide, whether you're ready to hire a sales team of your own or not.