Over the last five years, Belkins delivered 28M+ emails and scheduled 101K+ appointments. We use email as our primary marketing channel and are eager to share our experience and trade secrets.
Knowing how to make the best of your cold sales email can be an essential contribution to reaching your revenue goals this year. We are accustomed to thinking of cold sales emails as messages to complete strangers, and they are so with all the negative aspects associated with it. If you're not new to B2B sales, you probably know that people generally snub cold sales emails.
But what if we told you that there are ways for your emails to be read and responded to? It is indeed possible with personalization and automation. Our field experience tells us that strangers can lower their guard if senders tailor their emails to recipients' needs. The more effort you put together a lead list and do lead research, the better your B2B email open rates and reply rates get. That's where personalization comes in.
As for automation, email marketing at scale is impossible without tools. Cold emails can be overwhelming, especially when you're trying to reach multiple people at the same time. But with the right software and techniques, writing a killer cold email is much easier than it seems.
In this article, we'll discuss what goes into the most effective cold emails, how to leverage your missteps and vulnerability when doing cold outreach, and how to create email templates from the emails you send and receive. You'll know how to personalize your messages and master follow-ups. By the end of this post, you'll know how to write your best cold email, so you can send it to prospects without feeling guilty or embarrassed by it. As one of the best sales prospecting channels, email must be mastered!
How has cold emailing evolved by 2022?
A cold email is an offspring of direct marketing. Direct mail originated in opposition to mass marketing, which is why selectivity became its forte from the beginning. Now, when AI-powered technology and sophisticated algorithms give marketers and salespeople even more knowledge of consumers, selectivity gave way to personalization to propel cold emailing even to higher conversion rates than ever.
Indeed, The Ultimate List of Marketing Statistics for 2022 shows email has remained the most effective demand generation channel for at least half of all marketers. Small businesses can expect to have the highest ROI with email marketing. Sales and marketing keep finding ways to boost email engagement through segmentation, better email design, improved copy, and other best practices.
At the same time, as email usage gets more intensive and email fatigue is as real as ever, requirements to an effective cold email get more rigorous too.
Not only should B2B marketers and sales professionals craft eye-catching subject lines and compelling copy, but they must also maintain the health of their lead databases and ensure their prospects don't mind being reached out.
What goes into cold email outreach?
A solid outbound marketing strategy is always data-driven. Long gone are days of the "spray and pray" approach when salespeople had much less idea of who receives their direct mail letters. These days, successful cold outreach campaigns imply extensive research before blasting messages, and a growing number of B2B marketers and reps prefer not to reach out to strangers, ensuring they are 'protected' by double opt-ins.
1) Research-based ICP and BP
If you want to have stellar B2B sales rates, sell to those most likely to buy from you. That's why each business has to develop an Ideal Customer Profile (ICP) and a handful of Buyer Personas (BPs). Harnessing the power of technology and open data, vendors can make use of profiling. Some executives and sales directors go as far as saying that their reps need to know their ICPs and BPs more than the product or service because matching prospects against your ICP ultimately results in a deal.
An ICP is like loose brushwork. It's a generalized description of the best client's attributes. In the B2B environment, your best client is a company that finds your product or service the best solution for their problems. An ICP has standard attributes (firmographics, technographics, psychographics) and unique, niche-specific attributes (hedging experience in FinTech, software used in SaaS, etc.).
Buyer Personas are precisely painted portraits that are built off of your loosely painted ICP. Whereas an ICP pinpoints a company most likely to buy from you, buyer personas elaborate on decision-makers and give insights into their day-to-day life, decision-making process, and specific pain points.
2) Lead research tools
According to the HubSpot Marketing Statistics Report, sales professionals name lead generation as their top priority for achieving their sales goals.
It would be a huge mistake to think that reps can excel relying only on a robust CRM. The right tech stack makes all the difference for a company's prospecting efforts. Setting up an effective B2B sales process requires a steady stream of hot leads and a handful of tools to deliver high-quality contact data (titles, company name, email addresses, phone numbers, etc.), process and analyze large amounts of data, and automate repetitive actions.
CRM. According to HubSpot, a CRM is used by at least 65% of sales professionals. In addition to contact storage and customer tracking, a CRM enables reps to identify sales opportunities, automate messaging, manage marketing campaigns, score leads, and so on. A CRM is a single source of contact information for each member of the team.
LinkedIn. This widely-known social media platform for professionals is a huge lead database. From LinkedIn Sales Navigator to InMail to third-party LinkedIn tools, there are numerous opportunities to source leads from this platform. Most businesses use LinkedIn Sales Navigator to search and connect to targeted leads that fit your ICP and a third-party tool to build lead lists and automate marketing campaigns.
Lead generation software. Depending on their sales goal, companies supplement their in-house lead generation efforts with some sort of sales tools. Call it sales intelligence, sales acceleration, or sales enablement. Still, a new generation of tools helps SDRs shorten their sales cycles by sending notifications of new sales opportunities, organizing sales pipelines, prioritizing leads, forecasting upcoming deals, giving access to educational materials, and whatnot.
3) What cold email strategy to choose?
Let's compare your cold email outreach to a skeleton: it's the outline of your campaign, with the framework that allows you to be disciplined and strategic in your outreach.
Without a plan for frequency, cadence, and waves — the bones of your cold outreach — your campaign will be like a limp rag doll. Cold outreach without structure will leave you flailing around aimlessly, losing time and energy with every email you send but never seeing any results come in.
Instead of sending emails whenever you have time to think of a new idea, or whenever you think of someone who might be interested in hearing about your product or service, set up a clear schedule for yourself. Decide how often (frequency) and at what time of the day (cadence) you'll reach out to contacts. When choosing a frequency of cold email outreach, consider how much time it takes you to create personalized messages, as well as how much time the contacts have (how busy they are) and whether they'll be receptive at the frequency you chose.
Finally, think about when in the week or month you'll reach out to contacts. Is there any reason why you wouldn't want to reach out before 9 a.m. or after 5 p.m.? Or is there any reason why you wouldn't want to reach out on Mondays or Fridays, or during lunchtime hours? That's where buyer personas come in handy as they have information about your prospects' day-to-day routines.
Referring to her outreach strategy as Flip the Script, Becc Holland recommends using both cold emails and cold calls for a 21-day campaign. Becc suggests four touches on Day 1-2 and three touches every other day, ending it with a Break-Up email if the recipient has remained unresponsive.
We refer to a cluster of touches as a wave. 'Touches' in a wave are similar in content. On Day 1, you check out the prospect's LinkedIn and send an initial email. If you get no reply, you bump into the same message again in a multithread email on Day 2 and 3, asking, "Your thoughts?" And do a cold call using the same personalized information. That's Wave 1 where you're trying to make a connection, asking whether it's the right person to talk to, or gushing about their recent post/comment, or whatever reason you choose as a pretext to reach out. Each next wave has a different theme, such as case studies, stories, visuals, client testimonials, or another snipper of personalized info.
4) Segmentation
Segmentation is the key to targeted outreach. If you send out one generic email to each prospect on the list, you won't get much response. However, if you segment your list by industry, seniority level, gender, age, geographical location, buyer intent, or past purchases and send out ten finely-tuned sales emails instead of one generic one, you will see a lot of responses.
For example, if you are selling software to IT departments, you can segment your list by departmental responsibilities, seniority level, products currently being used, and so on. If a salesperson wants to send a B2B cold email to someone at Company X who has been on your website four times in the last two months, with an ICP of $500k and is in IT procurement, they will use a template tailored specifically to that person. In addition, they will include other information unique to that individual (such as the fact that they have children) to personalize the message further.
This is true for the whole cold emailing process: if you want to get great results from cold outbound emails, slice your lead list into segments carefully and use cold email templates for each narrow segment. This will allow you to save time and get great reply rates!
5) A/B testing email campaigns
Each part of your email campaign contributes or takes away from the recipient's positive reaction to it. A more engaging subject line will bring you more opens while the design of the CTA button with a less interesting color can dial down on response and conversion rates. However, you could and should test different elements of your cold email campaigns to support your decisions with data rather than intuition.
A/B testing, or split testing, will help you understand what version of an email works better for your cold emailing strategy and create the best cold email. If you want to get insights from your sales emails and have higher rates of engagement, sales, and revenue, as a result, run A/B tests on each element of your message.
In other words, you can see if your email opens are higher when sending an email at 10 a.m. vs. 2 p.m., if your subscribers prefer a subject line that has a question in it or a statement, or if they will click on the blue Call To Action button instead of the green one.
Subject line. If your emails get low opens, a generic subject line can be the reason for it. In addition to playing with size and format, try to create attention-grabbing personalized subject lines based on your target audience's pain points. Focusing your attention on excluding spam words is less effective.
Email copy. Play with different variables (number of employees, software use, job change, etc.). When you put too many variables in the template, the probability you're going to fail one of them is higher. If you use personalization with the wrong person, it won't work.
Email design. For example, test the best place to put an image (top, bottom, middle), the number of images to use (1-3), or an image as a button. These are all things you can test and see what works best for your audience. The more you test it, the better results you'll get!
Call-to-Action. CTAs present multiple options to test. Use a Call-to-Action formula: color + text + position = action and customize it by location, language, and so on.
6) Email deliverability
Email deliverability is a complex issue that involves the quality of your lead lists, the content of your email copy, and other technicalities (such as your inbox warming-up, spam fixing, feedback monitoring, etc.).
You can't think: my major task is creating email sequences and generating a selling email copy. Failure to address deliverability issues can put your campaign at risk. Even more, you improve your email deliverability immensely when you monitor the health of your lead lists, regularly cleaning them and deleting recipients who failed to respond at least once within 30 to 90 days.
A few quick rules to boost your email deliverability:
Practice double opt-ins to get prospects confirm that they want to receive emails from you.
Work on email copy using clear calls-to-action and compelling content to leave prospects wanting something more.
Maintain email lists by aggressively cleaning them.
Make the unsubscribe option easy as it will reduce the number of your emails going to spam.
Learn this issue in-depth in Why Are My Emails Going to Spam?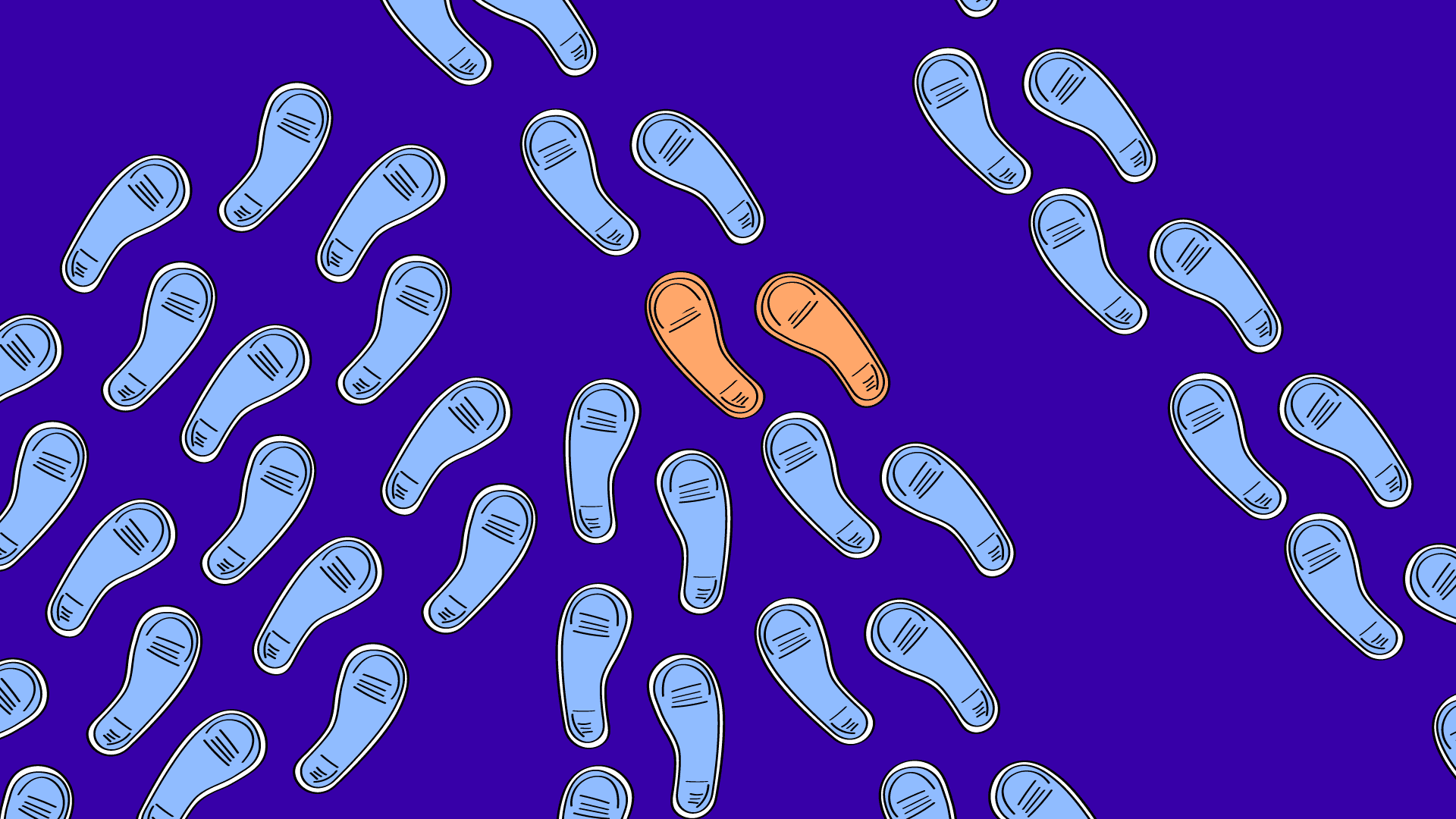 How to write email copy that sells?
SDRs know that lead research is the foundation of killer cold email campaigns. Email structure hasn't changed for decades. But somehow, some outreach campaigns have terrific response and conversion rates while others don't. Whereas some sales teams seem to have found a silver bullet, others cannot break through banner blindness that is rampant in the B2B market.
I. Personalization is king
Today, everyone knows that personalization is essential for every cold email outreach campaign. But while some businesses are still at the stage where they just look up a prospect's firmographics, the B2B market has started talking about hyper-personalization.
What's the easiest way to do up-front research into a prospect? Go to their professional social media like LinkedIn or listen/read their interviews/podcasts/ webinars carefully. You will get access to the most valuable and hyper-personalized information and understand the prospect's needs and pain points. If there's a fit with the product you're selling, you will use the company's value proposition to show the prospect that your solution can help them.
How to master personalization?
When each of us is bombarded with cold emails we didn't consent to and email copy that's far from our interests and pain points, crafting a message that is not tone-deaf or ridiculous is a win. Help yourself with our personalization tips.
Understand the prospect's context. Ask yourself: Can I picture my prospect's physical, emotional, mental, and social states? How do they do their work? What challenges do they come across? What can they afford? What purchasing criteria will they use when making their choice? If they already work with your competitors, why? What does the prospect care about? What are their hobbies?
That's the moment to use a buyer persona and build context for the prospect's day-to-day life. Just as you have no trouble finding the right thing to start a message to a close friend, discovery, research, and buyer personas will make you familiar with your prospects so that you can open a friendly conversation in your cold emailing campaign.
Keep relevance in mind. Remember to figure out if what we are selling is relevant or timely to the prospect. You can keep perfecting your personalization efforts all day long, but if it's not something the prospect intrinsically needs, they'll never buy it.
Ensure good timing. Too many of us are guilty of selling too early in the sales process before we really know what people need. So make sure your timing is right and your prospect is ready to buy before you start pitching. At least, make sure the timing isn't wrong. It's like you can't sell a high-ticket enterprise solution to a company on the verge of going bankrupt. Use personalization tools to give tailored recommendations based on what you know about your prospects.
Do thorough discovery. As B2B cold email campaigns stretch in time, you can save a lot of time if you make a proper discovery in the early stages of outreach. Lead research can suggest that a prospect is a fairly good fit, but a quick discovery call can reveal that it's a low-value pitch for your team. Heed feedback and listen to what your prospect say.
Be natural. To stand out from hundreds of ineffective cold emails in the prospect's inboxes, speak with the prospect using your own authentic voice. You know your audience; you have your background, so anything you do reaching out to your prospects should reflect it. Don't polish your email copy until it sounds aloof and vapid. Just write as you talk. And that's it.
Personalization tools
Automation of sales workflows with the help of personalization tools can be one of the most efficient ways to generate leads at scale. Deep-level personalization is impossible without high-level sales tools unless you have a Sherlock Holmes on your team to run offline investigation at scale. Use your CRM and marketing automation software for elementary technographics and firmographics and sales intelligence tools for psychographic data.
On the one hand, such tools as Outreach, Salesforce, Hubspot, or Vainu help sales professionals calibrate prospects. You find out the prospect's pain points, understand their needs, and see they are a good fit for the product or service you're selling. To do so, sales tools inform about sales opportunities, data of intent, or technographic drops (among other things, as Outreach, for example, has 30+ custom fields). You can prioritize these accounts and write custom sequences for them.
On the other hand, sales tools help sales reps to achieve hyper-personalization. Look for the ones that provide psychographics in addition to the company name, location or job title, etc. To dig deep into the sales tools topic, check out our article, "What's in Your Tech Stack."
II. Cold email structure
These days, effective cold emails are radically short and concise. Who has time to read long rambling letters? We certainly don't. However, email structure remains the same, and each element gets even more important than ever.
Setting a goal helps with any kind of task. You need a working subject line? Set a goal. What should a subject line do? Sell? No. An effective subject line is the one that gets an email open. That's it.
You can achieve the goal by making your subject line relevant, personalized, timely, curious, or urgent. But writing 'Hey!' or 'Check out these pics' won't necessarily work in your case. You can find it easier to be ethical with your subjects and only make promises you can deliver. So let's skim through the list of subject line types.
The short one. Short subject lines can work because they don't look sales-y. Let's do it, I'll be quick, and so on – it could be your friend who wrote these shorties. So prospects are more inclined to open them.
We have something in common. You see a familiar name and open an email without thinking twice. The sender can use your name, your connection's name, or a recent event – Just saw your post on LinkedIn, Did you visit MOMA's party? Did you work with John Atkinson? Mary, I estimated your ROI – and it's stirring your curiosity right then and there.
The question. A question can be good for opening rates if you tailor it to the prospect. Asking off the top of your head, Can you help me? Is this a problem you're having? Is that you? will hardly do you much good because they may not seem relevant to a prospect. However, suppose you learned about the prospect's job change, then asking, Does managing a team come at a cost for you? can do the trick.
Congratulation! Using congratulations in your subject lines will work if they are personalized. Your cold email open rates will drop if you craft something like Happy New Year, [lead name]. However, if you put a bit more thought and research into it, you can come up with something more engaging like, Congratulations on your new role, Just saw you featured on the cover! Congrats on the new launch, Loved your speech at the party.
The Let's Meet subject line. This category is probably the most straightforward. By asking Let's talk on Monday? Following up on my call, Do you have 3 minutes? you can make your subject line curious and relevant if you imply value and catch prospect's attention with your name/title. For example, Meeting request for Director of Marketing [your name] and Head of Sales [prospect's name]. Excellent for follow-ups.
If you caught the prospect's attention with your subject line, the first sentence is to keep them reading. Don't waste the opening line on talking about who you are. The prospect is not interested enough to find it out yet. You need to create a loop in the recipient's mind to show them that you're not a bot or spam and this isn't a mass blast.
Keep your personalization efforts in the opening sentence and explain your reason for reaching out. Suppose you're a lead generation agency reaching out to the head of sales who has just recruited new SDRs. In this case, stir curiosity by writing something to the effect:
I've just read your LinkedIn post about recent difficulties with qualified leads, and I know your headcount recently increased by 3 SDRs, or
I listened to your Belkins Growth Podcast on my way to work the other day, and I related to your insight about email deliverability.
You're opening a conversation with hyper-personalized snippets, so the prospect is more inclined to move on to the body paragraph.
The body of the message is your offer. You map out the company's value proposition, and the prospect understands who you are and what you do.
We at Belkins do growth demand and lead generation at scale, offering pipelines with a perfect fit to your ICP, or
Just asking, of the 10,000 outbound emails your team sends out a month, how much is your email deliverability and bounce rates? We at Folderly have developed one of the top-rated tools for spam fix and 100% email deliverability.
You can elaborate your message into several paragraphs but, normally, the first cold email takes 1 to 2 sentences for the body paragraph.
The last part of a cold email is a finishing touch aimed to reinforce your budding connection rather than screw it up. That's why your CTA must be:
simple and easy to carry out
very specific.
Easy and simple means that before asking to buy from you or even agree to a demo, you request a quick 5-minute call.
But again, your ask should be soft and specific. Don't suggest the prospect choose from a schedule or give two options. This day and time, it's too complicated for most people. Say, Let me unpack our [value prop] during a quick call, or It should only take me 5 minutes to see if you'd be a fit. Can I ask you a few questions on a quick call?
Frankly, you don't need a bulky signature — nothing more than your name, title, and the company's name. Adding links can send your email to the recipient's spam folder. If you must include a link to your website, use plain text instead of hyperlinks and make sure it looks like a valid URL (e.g., www.mycompany.com).
Images can seem frivolous or irrelevant. If you want to add an image, keep it simple and avoid anything that will seem out of place in a professional setting (e.g., a picture of your dog).
You don't need to add anything, especially to your first cold email. Don't confuse the prospect with multiple offers and a bunch of engaging stuff. There's only one excuse to use the P.S. If an email with a P.S. performs better than without it. As usual, run a test, and you'll find out. But, as a rule, the P.S. doesn't build up curiosity as much as other parts of email copy.
How to create a template?
The major problem with cold email templates is that if you take anything from the Internet, it won't make you stand out from the crowd. Would it help to create a connection with a prospect if you were using exactly the same templates other reps in the industry were applying? It's a rhetorical question.
It doesn't mean that you cannot use templates and automate your outreach. But you should create templates only from your own best-performing copy. And you should personalize and segment your templates.
On the Belkins Growth Podcast (S2E3), Sarah Hicks from Predictable Revenue Inc. was talking about her cold email template — "I saw you post that thing about outbound being hard. We do stuff with outbound. Let me unpack this on a quick call."
She says that this template literally got her a 90% response rate the first time she used it. If you turn it into a template, here's what your template may look like.

This template allows you to use quickly researchable snippets of lead data and build curiosity in a couple of sentences. Once you understand what makes a winning cold email a winner, you can templatize it over and over.
How to follow up?
Let's take a look at Becc Holland's follow-up sequence. Becc advocates highly-personalized outreach that takes 21 days and has four follow-up emails.
#1 The first follow-up email is a reply email to your first personalized email. The first follow-up combines personalization with value by attaching a piece of relevant content.

When following up, use the power of social proof. For one, you can always mention mutual connections. But also, you can harness the Fear Of Missing Out (FOMO) and mention (or attach) influential publications or industry ratings that have included your product or company so that the recipient may feel like they're missing out.
#2 The second follow-up email is another highly-personalized email. It's a fresh (un-multithreaded) email personalized to a fresh premise, such as a post, commend, podcast, self-attributed feature, or any other snippet of information your lead research uncovers. Plus, you add a new piece of content and an actionable CTA. For example,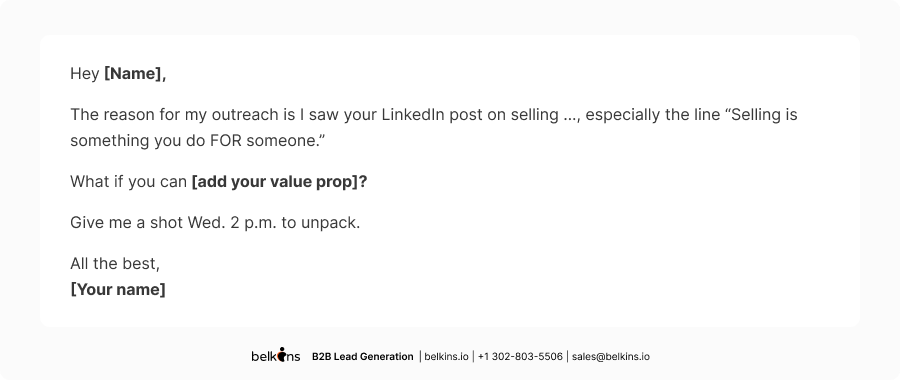 #3 If by the third follow-up you hear nothing from your prospect, you need to play on your vulnerability. Becc suggests building rapport by adding value to your end buyer and showing a little bit of vulnerability about who you are by taking accountability for your outreach.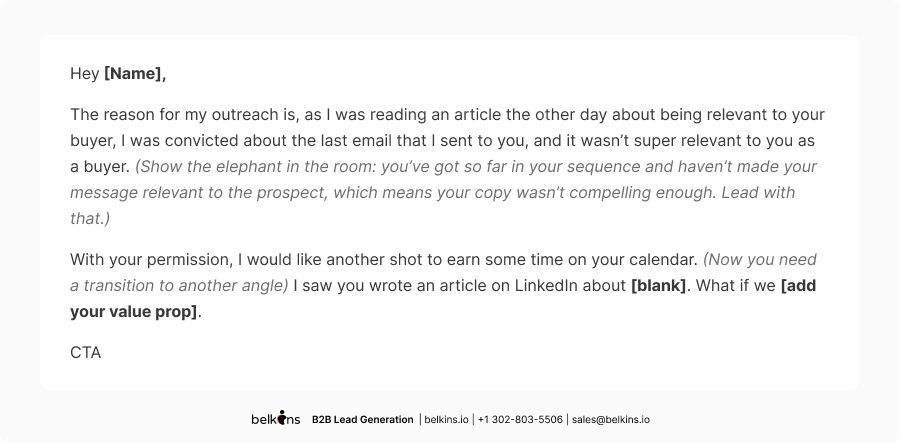 #4 If those three emails don't work, you need to do what's called a "break-up email." There are several scenarios for break-up emails out there. The problem is that they are more or less known in the sales community and often don't work as a result. As some of them seem ingenuous, continue to lead with value and integrity and just say it as is.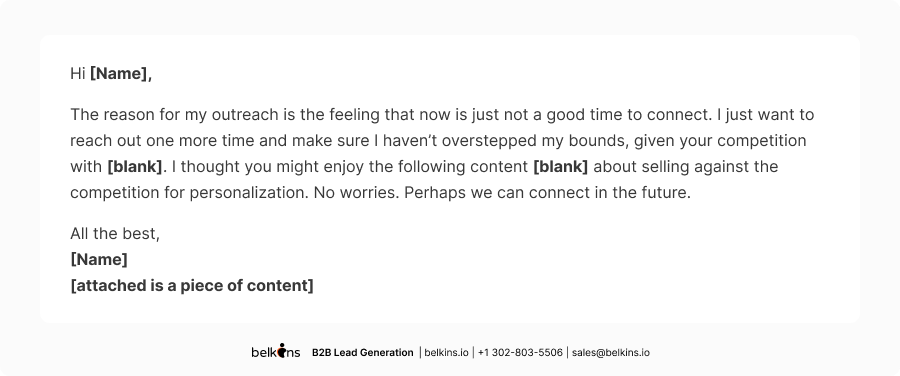 Conclusion
Sending out well-crafted hyper-personalized cold emails is a great way to build rapport with new customers. In this guide on how to write cold emails, we tried to go beyond recommendations to avoid spelling mistakes and use firmographics-based personalization. If you send cold emails as part of your content marketing strategy, you must know by now that it's better to keep it short, emails with personalized subject lines perform better, and templates downloaded from the Internet most probably won't work.
With this article, we want to remind you to always think of your prospect while writing a cold email. What do they want? What do they care about? How can you make them see value in your offer? If you want to build rapport with your potential customers, you need to understand them.
And good understanding can only be achieved if you change the way you view cold outreach. You don't just initiate a dialogue with an email. You start a relationship – one that will hopefully persist for years!