Problems

Since manufacturing industries rely on B2B relationships to thrive, the brand needed a steady supply of B2B customers. However, it's not uncommon for furniture firms to practice a more traditional approach to lead generation, using direct-dial telemarketing to decision-makers. This approach did not make use of contemporary tools such as marketing automation and email outreach.
Instead, the customer relied on telemarketing only, a method that is both time-consuming and costly. Before the right person can be pinned down and convinced to pencil in a free moment from their schedule for a talk, sales managers go through hours of searching, contacting, and getting around gate-keepers. On average, sales managers manage to reach their prospects only after the 8th attempt.
Since the time and expenses spent on cold calling did not justify their spending, Shelby Williams started reviewing supplementary means of generating and reaching out to B2B leads.
What we did
We gained many leads for customers we didn't know about before, so our database has grown.

Having over 5 years of experience in providing B2B lead generation services for manufacturers, we managed to accomplish the following goals:
Gathering leads;
Increasing email deliverability;
Optimizing sender score & email deliverability;
Qualifying.
1) Gathering leads
Shelby Williams provided us with their Ideal Customer Profile (ICP), targeting Facility Managers in any state where the company employed a direct salesforce or manufacturing representatives.
Why is it important? The ICP is a form that our clients fill in with relevant information about the geography, industry verticals, revenue figures, and employee counts for their target clients, as well as the titles of the key stakeholders in the organizations. Additional qualifiers are industry-specific and may include data points such as recent restructuring, corporate technologies, company finances, and even the square footage of a company's headquarters. Without the ICP, It's impossible to tailor the approach, customize email templates, or structure an appropriate commercial proposition. The client's understanding of their own ICP is the first step in ensuring the success of b2b lead generation and email outreach. After we receive the ICP from our client, we proceed to lead research, validation, analysis and segmenting. For Shelby Williams, the search was mostly based on the following qualifiers (in addition to several unique qualifiers provided by the client):
Number of employees;
Active hiring;
Annual revenue.
After gathering the business lead data, we initiated a quality assessment process to ensure that each of the businesses matching the client's ICP was active and ready for engagement. As part of that process, we checked the prospects' website, their LinkedIn profiles, and social media pages. After excluding all the prospects whose site/social media/professional platform pages were not updated for 6 or more months, we finalized the list of leads.
2) Increasing email deliverability
In order to engage the increasing number of new leads that were being generated, Shelby Williams tasked Belkins with setting up an Outreach program for all newly acquired B2B prospects. This included:
Communicating with prospects on the client's behalf;
Sorting and processing responses received from target recipients;
Nurturing relevant conversations with interested prospects;
Qualifying prospects based on Budget, Authority, Need, and Timing;
Pushing qualified prospects towards a phone appointment;
Forwarding the prospects ready for a call to the client;
Escalating prospects with complex/technical inquiries to the client.
A dedicated copywriter was assigned with customizing email templates and adjusting the unique value proposition to appeal specifically to the prospect's needs. Meanwhile, the SDR team created a schedule for sending emails and set up the appropriate sending configuration on the client's mailboxes.
Once the campaign was launched, we monitored its performance closely to ensure high levels of deliverability.
Why is it important? The most common issue encountered when launching an email outreach campaign is the risk of your emails being marked as spam. It happens when the sending domain's Sender Score is low, or when some of the words used in the message are flagged as spam-triggers by the recipient's email service provider.

Over the course of the campaign, the SDR processed all incoming responses and managed services of appointment setting as well as no-show recovery. To work more efficiently, we structured the mailboxes and segmented all correspondence threads into the following categories: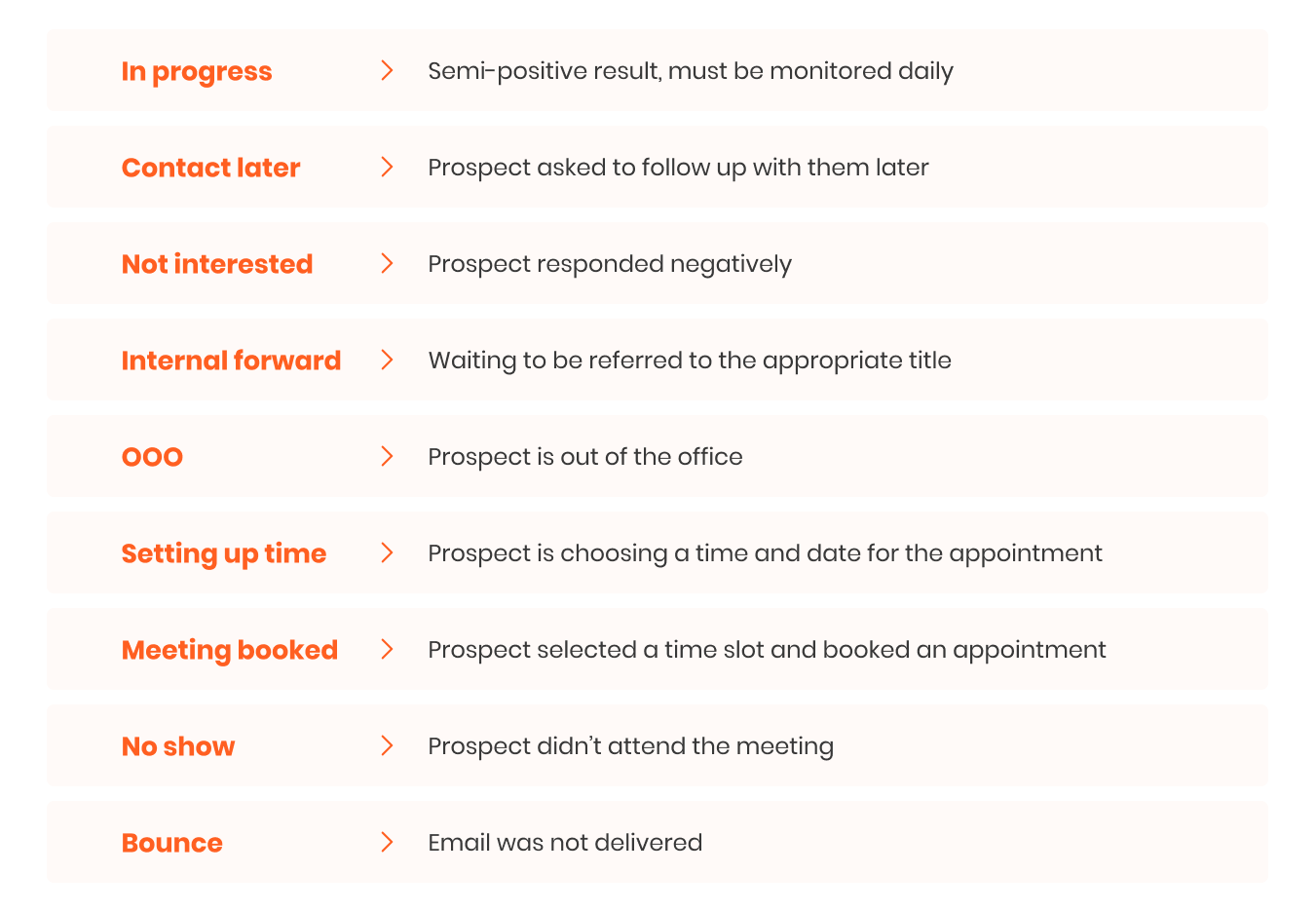 With that structure in place, we were able to organize all incoming emails and focus our efforts on the prospects that were ready for engagement.
3) Optimizing sender score & email deliverability
Mailbox analysis and development are a vital part of every outreach campaign we manage.
Why is it important? Your domain may be experiencing a number of "hidden issues" that may affect the deliverability of your emails and lower the sending priority of your messages, which results in emails ending up in spam folders instead of inboxes. To avoid that, we always advise our clients to get their business mailbox and domain sender score assessed by one of our qualified experts.
Additionally, we configured the client's mailbox and synced it up with email monitoring tools to grant full visibility on the outreach process.
Results
Getting our name out in front of customers that may not have aware of who we are is important. Also, reminding customers who do know our brand of what we can offer. Putting us in touch with the right person is very valuable.

The 4-person team of Belkins researchers was able to hand-curate a database of pre-qualified leads.
The outreach campaigns by Belkins experts brought a high amount of pre-qualified prospects — every third response was positive. Out of 473 gathered prospects, Belkins delivered 261 warm prospects. Out of these prospects, 50% are potentially ready for closing deals and discussing partnerships. The other 50% were open for dialogue and engagement.
Having started with outreach across golf clubs and country clubs, Shelby Williams expanded the search for business leads, going way beyond HoReCa facilities and offering their services to businesses in the other fields.
Currently, Shelby Williams is processing the received flow of qualified prospects and actively referring Belkins to new clients and customers. As our cooperation continues, we're looking forward to new achievements and collaborative results.
Key takeaways
Don't rely on cold calls as your sole method of generating B2B leads. Calling your prospects after engaging them via cold emails increases your chances of making an appointment or closing a deal.
B2B lead generation and outreach require a personalized approach and customization. It is always important to remember about your target audience, their needs, and their goals.
It's always worth exploring new tools and means to improve your lead generation. If your competitors don't use them, they are losing opportunities and giving you a powerful edge.
Prospect qualification and processing take a lot of time. Therefore, getting a certified team to cover that part of your workflow will optimize your resources and provide you with results at a much quicker pace.