Problems
Long-cycle lead nurturing. In the middle of the process, we realized that we had no trouble booking small companies. However, most of them did not need to buy the product right at the moment. HiBob's SDRs would spend a lot of time on lead nurturing without conversion. Nurturing them could take up to 2 years. Finding larger companies was a challenge because booking a call with a midsize company with 1K to 5K employees was more time-consuming. HR Tech is a super tight, competitive niche. Large companies have their HR systems and don't want to replace them.
Lead qualification. The only issue was developing the proper lead qualification procedure to ensure we wouldn't lose an opportunity before the call. Being able to schedule around ten appointments a month, which is the same number for their in-house reps, we were one of the most successful departments in their structure. So we just needed to research proper leads and qualify them for Sales. Given the narrow GEO of their ICP, this was a tough call.
What we did

1). Adjusted the VP and client expectations. When we understood what it would take us to engage and nurture midsize clients, we warned HiBob that the pipeline would dry out for a month or two. Whereas we used to bring in 30 calls, building rapport with decision-makers in larger companies would drop the number of monthly appointments to just 3. The client understood and agreed.
Working on the value proposition. Our Number One goal was to adjust the value proposition. Initially, it was pretty hard for us to articulate enough value to open the doors. Addressing a super tight niche of HR software, we dealt with the complex sales process and a pretty technical value proposition.
Getting to know the product. In December, the client signed the contract, so we started the campaign a few weeks before Christmas. As we expected, the first month of the outreach was dry, and we booked 0 appointments. However, the lull period gave us time to get into the weeds of the HR system. HiBob was somewhat worried about the lack of calls but trusted our expertise. In January, just as we expected, we got 23 calls.
Warming up leads

. We heated the sales funnel with wide-ranging campaigns and awesome templates by the second month. We would share excellent content on HiBob's website and invite leads to webinars.

2). Crafted an ideal workflow. We've got a few sessions with HiBob's sales reps to understand their lead qualification criteria. Using the trial and error method, we crafted an ideal workflow.
Email templates

. Equipped with the client's clear-cut VP and ICP, we had no trouble leading with value in the concise email copy. We crafted personalized templates perfectly fitting the tastes of our target audience. We managed to take into account their pain points and addressed them by providing them with relevant and useful data.

Social media

. LinkedIn offers ample opportunities for research-backed personalization on leads. We used this social media platform to establish an authentic relationship with our audience. Our experts managed to find numerous B2B clients that were interested in HiBob's services and enriched the client's database with qualified leads.

Cold outreach. We narrowed down personalized messages only to leads who fit the ICP. The cold outreach campaigns had, on average, a 31% open rate and a 12% response rate for mid-sized companies and a 47% open rate, and a 7% response rate for IT/Tech companies under 100 employees. Re-engagement campaigns enhanced open rates (50%) but not response rates (3%). We've come up with several industries that worked best for us and determined the titles we should focus on.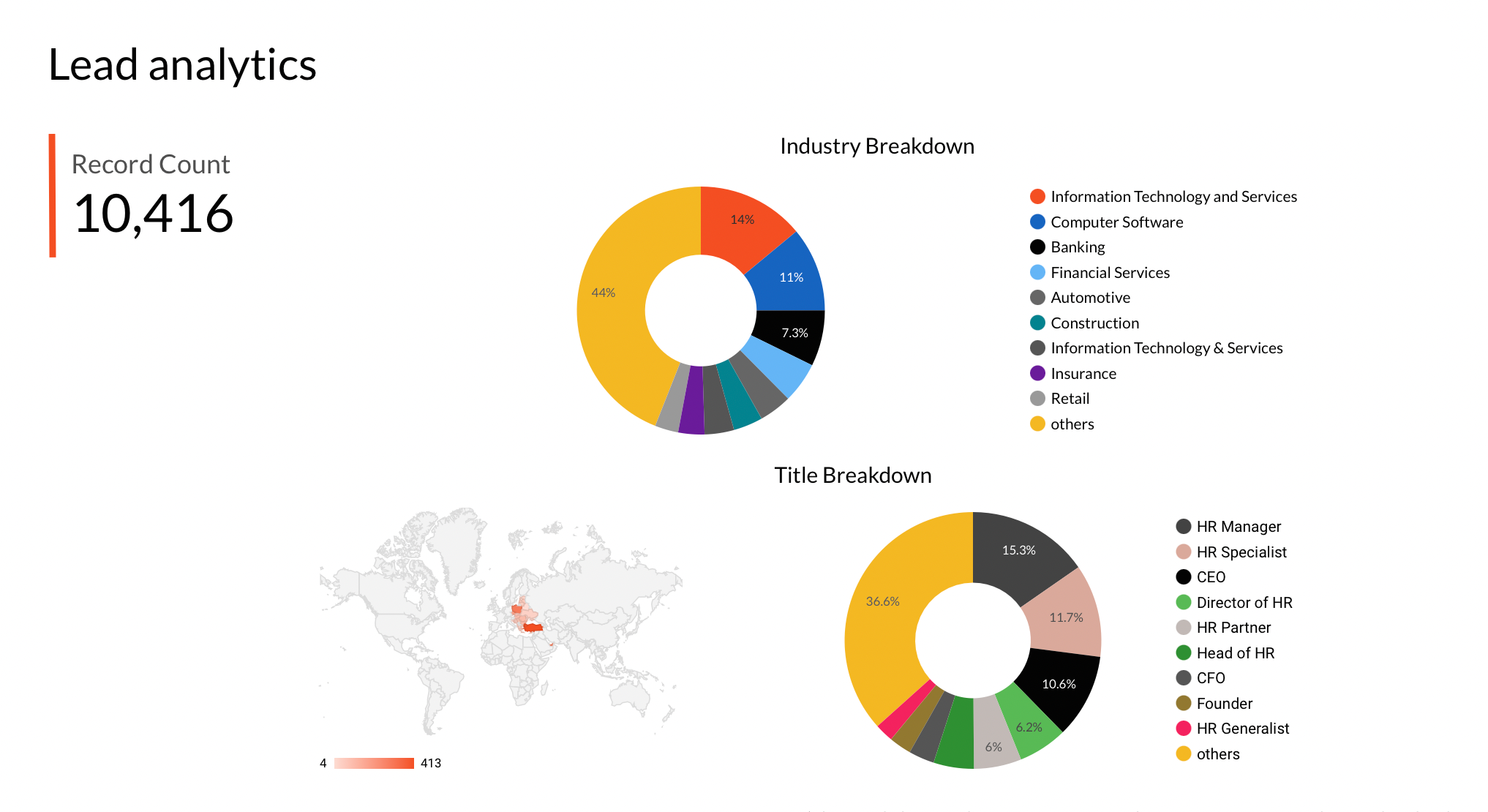 Results

After 6 months with HiBob, Belkins can share the key achievements on this project:
Defined ICPs for multiple market segments. Solid, scalable results are impossible without a well-developed ICP in B2B sales. Belkins drew out several ICPs to cover the tight niche in Israel and Turkey that HiBob currently occupies.
Built a predictable flow of highly-qualified leads. Belkins had 11-12 calls with large companies like Oriflame, Credit Agricole Group and other large banks, and EPAM and other IT companies in the last month. As a result of the outreach, the Belkins team booked 100 appointments and closed two deals with European companies which resulted in $50K in revenue over 3 months.
Launched successful cold outreach campaigns. Belkins researched about 12K contacts and sent on the HiBob's behalf more than 30K emails with an average open rate of 31% and a response rate of 12%.
Key takeaways
Outsourcing is tough in a tight niche

. Usually, if the product is too complex or the niche is too tight, it is difficult for outsourced teams to sell these products effectively. Since the Belkins team is dedicated, they successfully tried different approaches and figured out the value proposition and ICPs.

It's essential to define your ICP beforehand

.

Even though outsourcing is usually cost-effective for clients, it makes sense for them to figure out their ICPs early as they have a deep knowledge of their market segments and ideal customers. A good ICP should consist of several buyer personas to reveal the most conspicuous traits of each type of your target audience.

CEE can be an excellent region to target

. Central and Eastern Europe respond well to the tactics and strategies of experienced salespeople. It's essential to take into consideration its specific features, such as supporting democracy, local economies, and cohesion in the EU to ensure fruitful cooperation. Today, CEE offers numerous business opportunities to explore.