Drip marketing is an umbrella term that refers to every marketing campaign, a project that attempts to slowly, steadily nurture a viewer/subscriber to a customer, and a customer to a loyal customer. Drip email marketing is the most used type of drip marketing, as digital interactions take over physical store/office visits. 

E-commerce becomes a strong, influential form of economic activity for the business sector, and emails are the best channel of communication between a business and its audience.
Of course, it is not a piece of cake to create an effective drip email campaign that ensures profit and growth for your business. 

Usually, it takes time, energy, resources to design, evaluate, and implement a successful marketing strategy. So, imagine having to do that for an "automated" real-time campaign that is based on triggers, timelines, and action, but not managed by you. And to make it even more complicated, imagine doing that for a B2B company. Thus, your emails have to influence your recipients in a particular way,  catching their interest and giving them time to consider your products and services.

Before starting your drip email campaigns, you should research the best email marketing services, what they offer, and what your company needs.
Advantages of Drip Email Campaigns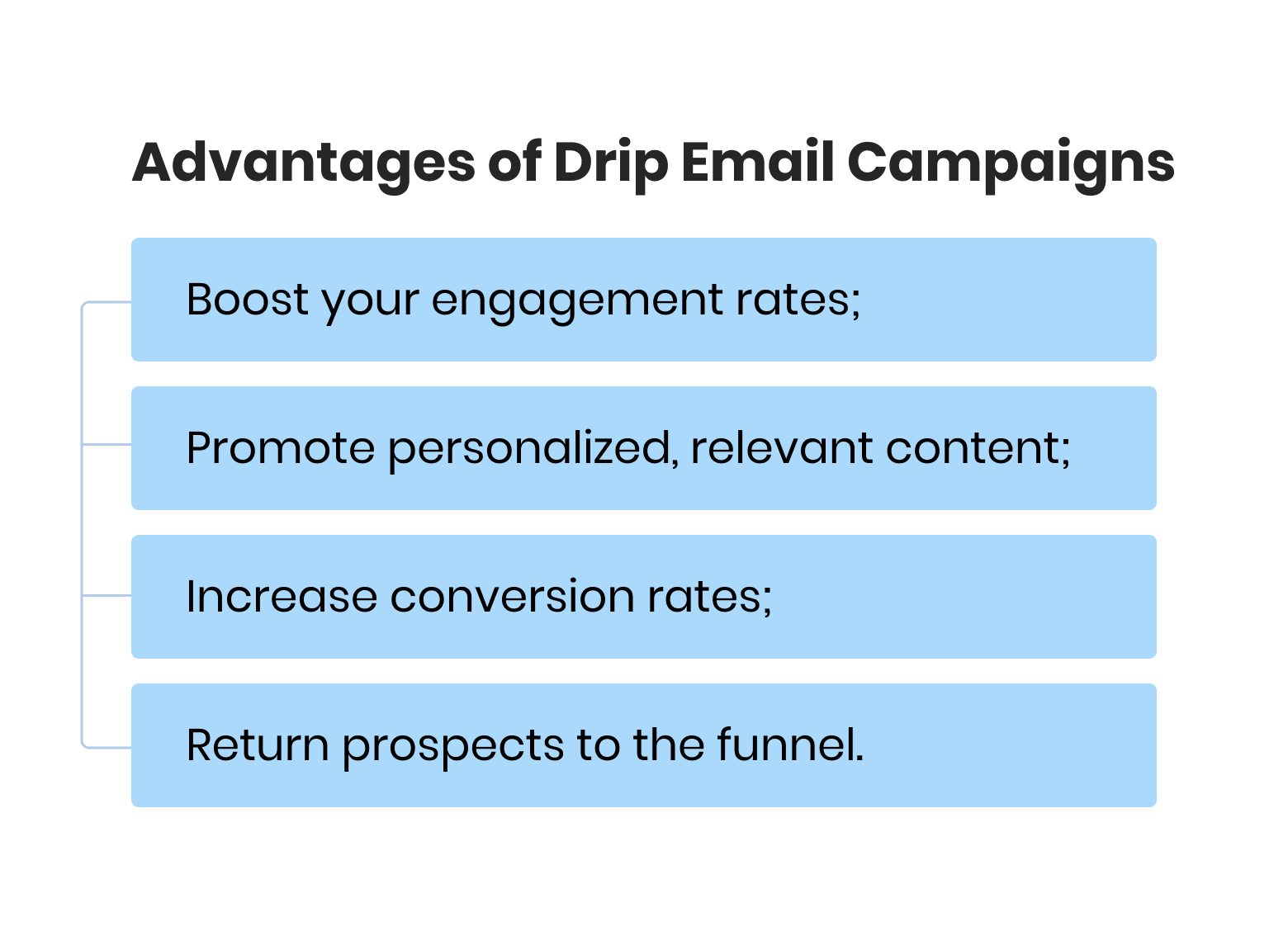 Boost your engagement rates
The main advantage of drip email campaigns is that they let your company and your prospects bond in a regular, casual way. A well-designed drip campaign forms a constant channel of communication and engages people with what information you wish to share.

Promote personalized, relevant content
As drip email campaigns operate in an automated way, you set specific triggers, actions that ensure your emails are relatable to your target audience. This means that they receive emails that are prepared and suitable for their level of interaction with your company.

Increase conversion rates
Every business that used drip email campaigns saw an increase in their desired sales KPIs. Mostly, the main conversion rate of interest is turning qualified leads into customers by motivating them to purchase one or more of your products/services.

Return prospects to the funnel
Another great asset of email drip campaigns is their ability to improve your chances to re-engage people who are about to slip out of your marketing funnel, non-openers, and people displeased with your business. In this case, you can create tailor-made drip campaigns to research and collect information, in order to guide them back to your sales funnel.
Cases Of Drip Email Campaigns
There are many reasons to use drip email campaigns and prepare detailed, extensive workflows for every case.
Based on the main advantages that we shared before, we will move on with an extensive list of cases that you can use this strategy.

Website Re-engagement
Let's say some of your prospects visit your website to check some of your services. After some click-throughs and opening different pages, they leave without a purchase.
Or let's say a user buys one of your services, but then goes off your radar, no news, no feedback, no subscription renewal. 
In both cases, an automated drip-email campaign is a must.
Remind your prospects and buyers of your brand, show them that you are still there, and always respect your brand identity in these emails. 
You shouldn't be too confident, too distant, or too business. A casual catch-up to let your buyers know that you are here for them is more than enough.

Welcome Email Sequence
One of the easiest drip campaigns to create is also the one that can actually make a difference. 
The basic workflow is simple. Someone subscribes to your newsletter. The trigger is activated. They receive a welcoming email.
But this is what everyone does, to be honest. So, you need to stand out and be unique.

Follow the basic workflow, but ask a "tricky question" when they subscribe. Gather one piece of information about them (gender, business size, times of the week they wish to receive a newsletter).
Using this information, set different automated drip campaigns that ensure a more personalized, pleasant welcoming onboarding experience.

Upsell / Cross-Sell Campaign
If this campaign is designed correctly, it can create some magic for your business. 
Once they have purchased one of your services, you should send them a confirmation email. Besides that, this is your chance to get something extra, without being too greedy.
One option is to send them a complimentary product/service that improves the results, efficiency of what they have already purchased.
Another option is to provide them the opportunity to purchase a more expensive service, but for a certain loyalty discount.
This way, you make a product recommendation that would be far-fetched for a regular prospect, but now you have the chance to make it right with people who have already put their trust in you.

Satisfaction Survey
When someone purchases a product or starts using one of your services, your work is not over. Your end goal is a proactive customer service that guarantees clients' satisfaction and decreases your customer churn.The first email should be a customer survey on the process of buying your product/service, and if the purchase journey was simple and clear to understand.
The second email should be a satisfaction survey on the quality of their purchased product/service. In case they purchased a product, then you should take into consideration the product delivery time to set your trigger.
Special offer reminder
As part of your email marketing strategy, you send out emails to inform your audience about special offers and discounts.
With the automation features, you can track your campaigns and see who opens your email and visits your landing page. Then, you can set an automated drip email to be sent after a few days about the special offer they have seen.
If you add a time limit on the offer, it will give a sense of urgency, making them think about your offer more often. In the end, this strategy will lead to immediate purchase of your product or service.
You can also track the visitors that view a specific page of your website about a service/product that you wish to further promote.
You can create an email sequence to re-target these people and send them more information about this service, some tips and tricks about it, some extra value to your product, and them.
Loyalty Sequence
With this type of drip email campaign, you design a customer loyalty program to segment your customers.
This customer segmentation helps you treat your customers, based on the number of purchases and the trust they put into your company.
Usually, it needs to be divided into two parts. The first part is to create a point system that ranks your customers based on their purchases.
Then, when some customers reach the desired ranking, the second part is triggered. The second part involved a thank-you email for their constant trust in your company.
Then, to further showcase how much you value and appreciate their interactions with your business, you can send another email with special offers, discounts, especially for your loyal customers.
Happy Birthday Email
This one is kind of easy, as you just need to set an automated email for the birthday of your subscribers. 
But if you want to send better birthday emails than all the others, there are two things that you should take into consideration.
Firstly, use your market segmentation to send out a variety of personalized birthday emails. It's like wishing happy birthday to a relative, a friend, and your fiance. They do not hold the same "status", so make sure that they feel appreciated and recognized.
Secondly, don't send just one email for a happy birthday and call it a day. Instead, create a series of two-three emails. Send an email for a special offer, before the day, so they can have some time to think about it. Then, one email for their birthday giving them your warmest wishes. And another one if you wish so, after a few days, to remind them that the offer is about to expire.
Cart Abandonment
One of the main problems e-commerce stores face is cart abandonment. Regardless of the type of business (B2B, B2C), abandoned products, bookings, services are a sad reality for most companies.
So, the best solution is to form an abandoned cart email strategy, based on a drip-email campaign.
You should prepare different emails to make sure that your content is relatable, intriguing, and motivates your potential buyers to return to your site to complete the purchase.
You shouldn't prepare one email for every product or service you might provide. Categorize your services and prepare several emails that nudge users towards making a move. If your visitors leave in the middle of ordering a premium service or abandon a product in their cart, you should be more specific, formal while being friendly, and urge them to come back.

Renewal Sequence
Most B2B companies (SaaS companies in particular) provide their services in fixed terms, meaning for a certain period of time, or a certain amount of people.
Firstly, you need to set a custom date field for your subscribers and clients. It will allow you to create a pre-made drip email for each period of subscription. So, what you do actually reminds them that their service, or product, is about to run off.
But you need to do it sometime before the actual day to give them enough time to make up their mind. 
This email sequence allows you to ask your buyers to rate your service or product via a survey. This way, you'll be able to overview the general experience of your buyers and customers. Another trick (if you are a B2B SaaS company) is to ask your recipients for a quick call, so they could discuss any possible difficulties, talk about their experience and provide qualitative data for you to collect. Either your buyers choose to keep trusting your company or not.
Final Thoughts
Running a company without the right tools is nothing but a piece of cake. It's not even as pleasant as a whole cake. But if you create, design the right strategies, then it will become easier.
Email marketing strategies increase the chance of any company to maintain their business and target growth annually.
However, you should recognize that the competition is getting tougher, and only the toughest ones get going.
So, you need to prepare yourself and your company and make the best use of drip email campaigns.
We hope that this post is helpful to you and gives you some extra thought, insights, and value.