Building an appointment-setting process is just the beginning. You made your investments; you know how things should work. But how do you know whether they work correctly? It takes a lot of success metrics to figure out the perfect ROI for your sales.
Don't worry, though. No matter how much information and data you have to manage, it all becomes bearable and straightforward once you figure out the right approach and break it down into steps. With professionals ready to share their insights and experiences with you, following those steps will be a piece of cake. So, if you're in the process of building your KPIs, buckle up. Right now, we're going to show how to outline the results that would indicate that your appointment setting is functional and productive.
Identify Key Performance Indicators (KPIs)
Just like any process, appointment setting has performance indicators of its own. As soon as you pinpoint them, you'll be able to build a system for monitoring data and comparing stats over time.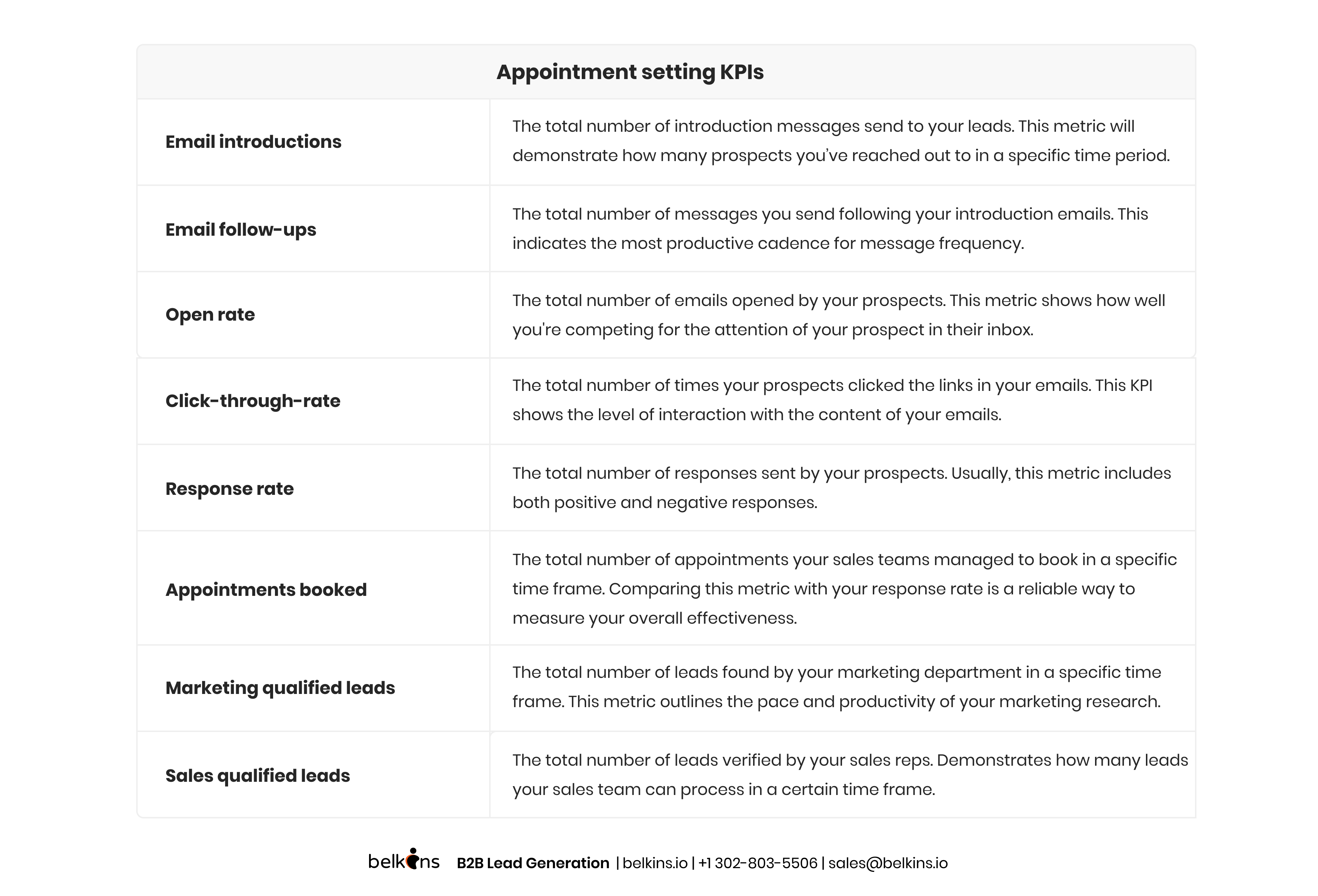 Yep, this looks like a lot of information! You may be wondering, "Do I really need all of that?"
In fact, you do. You can't use one set of metrics without the other. It's like putting a jigsaw puzzle together: You need all the pieces to make sense of the image.
Let's say your marketing department supplies you with fresh qualified leads regularly. However, not even 20% make it to sales qualified leads. So, something is wrong with your ICP or the way your teams do research.
Another example? If the number of booked appointments is low, especially compared to the number of emails and follow-ups you're sending, your messaging may need to be improved.
Appointment setting requires a systematic approach since it includes many processes. The clearer your overall vision of the entire system, the more control you have over each process.
To make the most out of your data, we suggest monitoring each sales representative's performance separately. It's an excellent way to explore the strongest and weakest points of each team member.
You can find out that one of your sales representatives is great at no-show processing, while another one is good at engaging decision-makers. Knowing your sales experts' skill sets will allow for balancing their abilities and building an effective, high-performing team.
Set Goals
Setting a clear end goal is key to tracking your appointment-setting results. You see, saying, "I want to become a Fortune 500 company and lead the competition" won't suffice. A little bit more detail is needed before you can outline your target and map your customer's journey with great precision.

So, how do you do it?
Systematize your appointment-setting process. First of all, you have to build a roadmap that covers all appointment-setting stages. From lead research to outreach and booking appointments, you must write it all down or illustrate it via infographics. Next, you should distribute it among your marketing and sales departments since they can't plan their moves without knowing the main goals.
Count your leads. Calculating the exact number of leads is necessary for closing a sale; however, it can be challenging. You have to keep an eye on essential variables, such as product price, company size, daily website visitors, etc. By doing so, you will inject more clarity into your research and let your teams know how many leads you expect to reach the bottom of the sales funnel.
Don't lose your direction. If you sell to several markets, think about relevance and opportunities. Are there any events or changes that make it worth focusing on a particular segment? Is one of the industries currently in dire need of a product or service you provide? Is there a hot season you don't know about?
Think about the money. There are expenses and gains to take care of. How much do you want to earn by the end of the month? At the end of the year? Are you planning any investments? What can you currently afford? What kind of ROI do you expect to receive on your sales?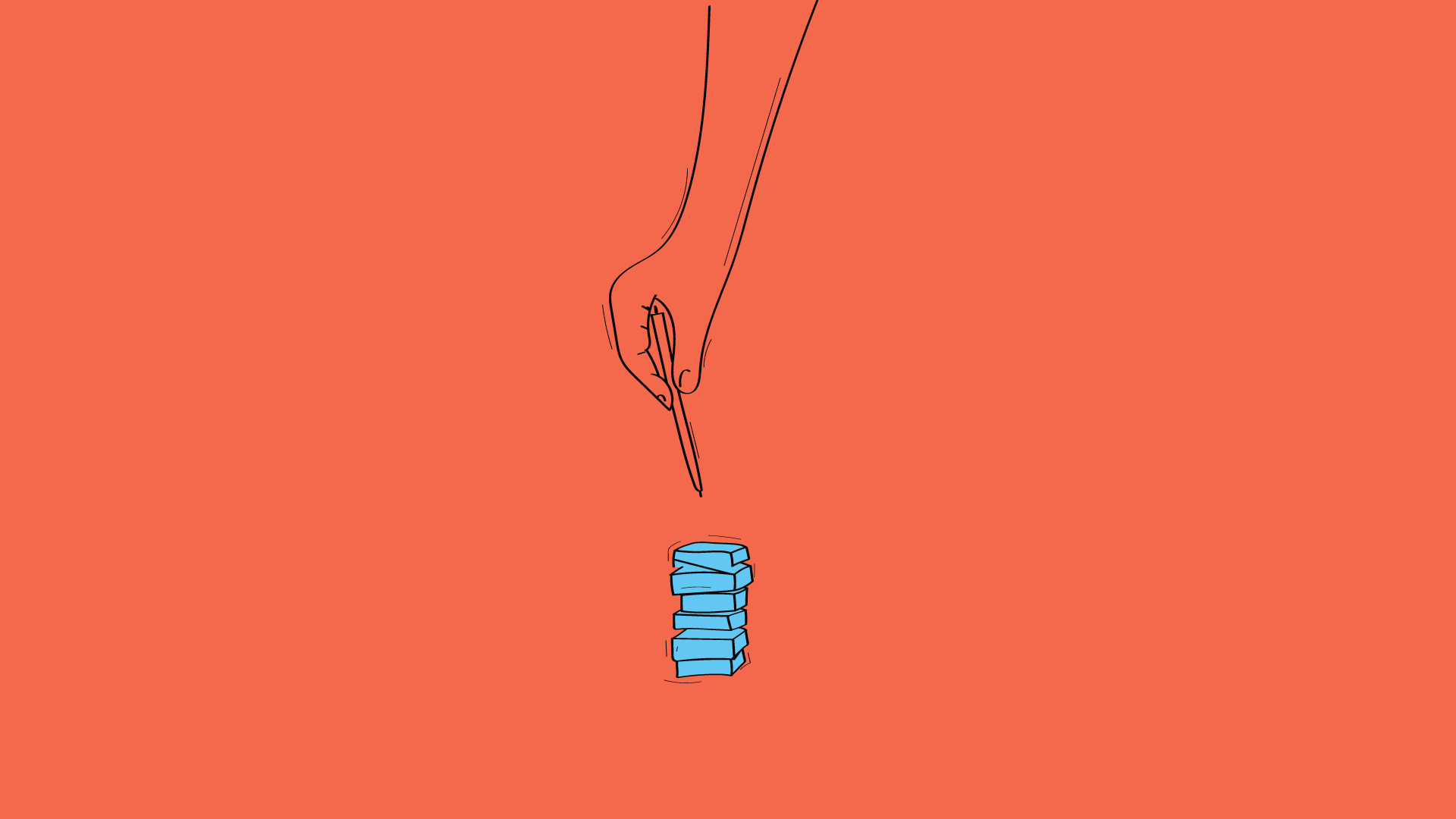 Report on KPIs
Whenever we describe the qualities of our services, we highlight regular reporting. It may not sound like a big deal, but that's not what our results have shown. Detailed reports save businesses. Regular reporting allows for comparing metrics over a particular time period to secure your business' future and build trust and credibility. From our experience, we've outlined the following supporting pillars of comprehensive reporting:
Real-time data tracking. Edit contact data, outreach status, campaign progress in your CRM as soon as you can. Don't let any bit of valuable prospect information slip your mind. Indeed, working with multiple inboxes and clients requires regular data updates as you go.
Success metrics breakdown. It's not enough to track your monthly KPIs. You have to accumulate enough data to see how well you were doing in the last quarter or in the previous year. Only when you have your KPIs mapped out, period by period, will you be able to build long-term plans, investments, and strategies.
Transparency. Reports are necessary for building synergy between your teams. This includes in-house teams and any representatives of your acquisition partner. When everyone has access to appointment-setting data, it allows you to achieve harmony in your cooperation, increasing the chances of a good ROI on your sales.
Analyze the Results
Now, let's say you've already harvested, gathered, and organized your data. It's the end of the month or the beginning of a new quarter. You need to know your progress and the ROI of your sales. It's okay to feel overwhelmed if you're only beginning to organize your appointment setting. Thoughts like, "Where do I even start?" are only natural in this case. In fact, it's great that you ask yourself such questions. You only need to adjust them a little bit:
"How do my results look over time?"
As mentioned above, analyzing your data according to time periods is crucial. You must make a month-on-month and year-on-year comparison of your results. Your monthly stats are necessary to figure out your latest dynamics, while your annual data shows whether there is a decline, an increase, or a standstill in your business.
"Was I doing better at the start of my appointment-setting campaign?"
Some appointment-setting campaigns have a spectacular launch. Emails get delivered to the intended recipients; the open rate is high, sales teams engage prospects regularly… However, it may lead nowhere. Remember, end results must match the effort. Thus, keep an eye on your campaigns through its entirety so that you don't lose your focus.
"Do these results align with my goals?"
Look at your goals roadmap. Then look at your month-on-month and year-on-year results. Do you feel like you're getting closer? Is there a fit or disparity? If you see that some of your KPIs are unsatisfactory, think about why that happened and find your sales funnel's problematic stage. Maybe it's your messaging. Perhaps it's the lack of no-show recovery measures. Whatever the reason, having your dynamics visualized will let you skip the search and go straight to troubleshooting.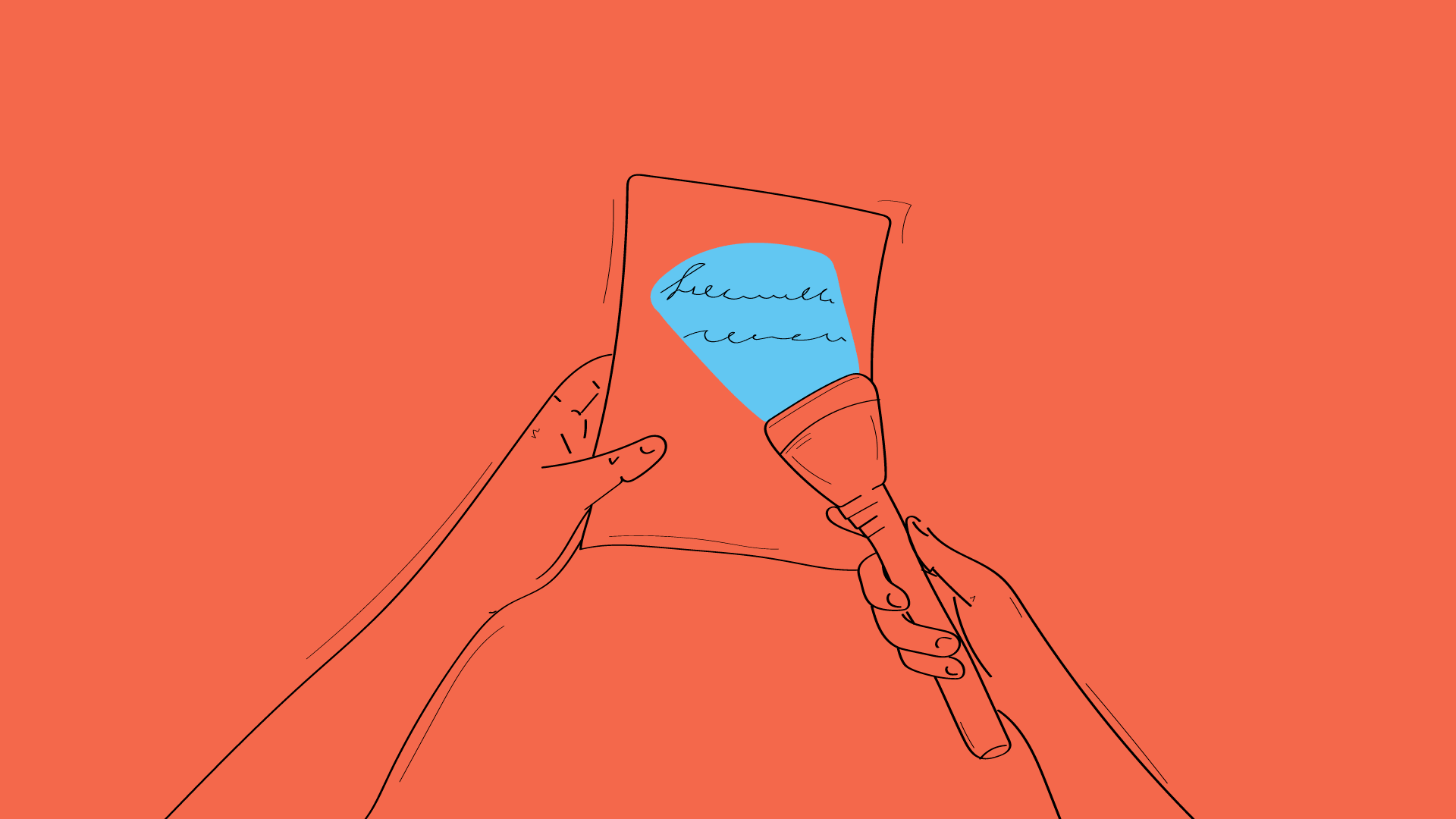 Compare the results
As they say, the lack of stillness is key to success. Don't stop researching; look for innovative workflows and tools, and compare your results. Things change all the time. Trends and events that used to impact your campaigns last year positively may have an opposite effect today. Actions and strategies grow old quickly, raising the need for innovation and change. Templates that worked well in the past may be tiring your prospects out right now. So do thorough research and never forget the context when reviewing your KPIs.
If you want to know more about appointment setting or see how this strategy helped our clients feel free to explore our case studies. They outline our work with the most challenging issues and show how we build an appointment-setting process from ground zero, securing a steady ROI in our customers' sales. Check out our blog if you're eager to learn more about appointment setting!