How do cold prospects become hot leads?
What happens before these hot leads turn into buyers?
When do things get started? What is a sales funnel?
And how to stay afloat and move to the next level?
When you're about to brave unknown B2B terrains and start working with your target audience, these questions haunt you for a reason. According to SBA research, 80% of small B2B organizations fail in the first year. By 2018, only 56% of B2B companies managed to hit the five-year mark.
The success of each business depends on the wholesomeness of its structure and understanding of the company's workflow. The way they build their sales process, systematize their data, and train their teams determines is based on their understanding of their prospects and the moments they and their future buyers find their touchpoints.
From our experience, we can say that this understanding comes when you see your sales funnel process clearly.
What is a sales funnel?
There is no point in dedicating an entire paragraph to explaining what a sales funnel is.
It's the process within which your prospecting lists convert into buyers. The sales funnel is divided into several stages, each representing your potential buyer's progress towards making a purchase.
Stages of the sales funnel
When it's time to set their sales in motion, B2B newcomers one and the same mistake. They pay little attention to their sales funnel because they believe it to be more of a B2C thing. However, at least 68% of businesses that don't identify the stages of sales funnel in advance lose 60% of their potential buyers.
As long as you work with humans, there will be a structure of their behavior, their steps, and decisions. This is why sales funnel development is a must for any business, field, and industry.
Another common myth that costs 50% of startups their profit, is that sales funnels have a simple structure. Many unsuspecting business owners expect their sales funnel to look like this: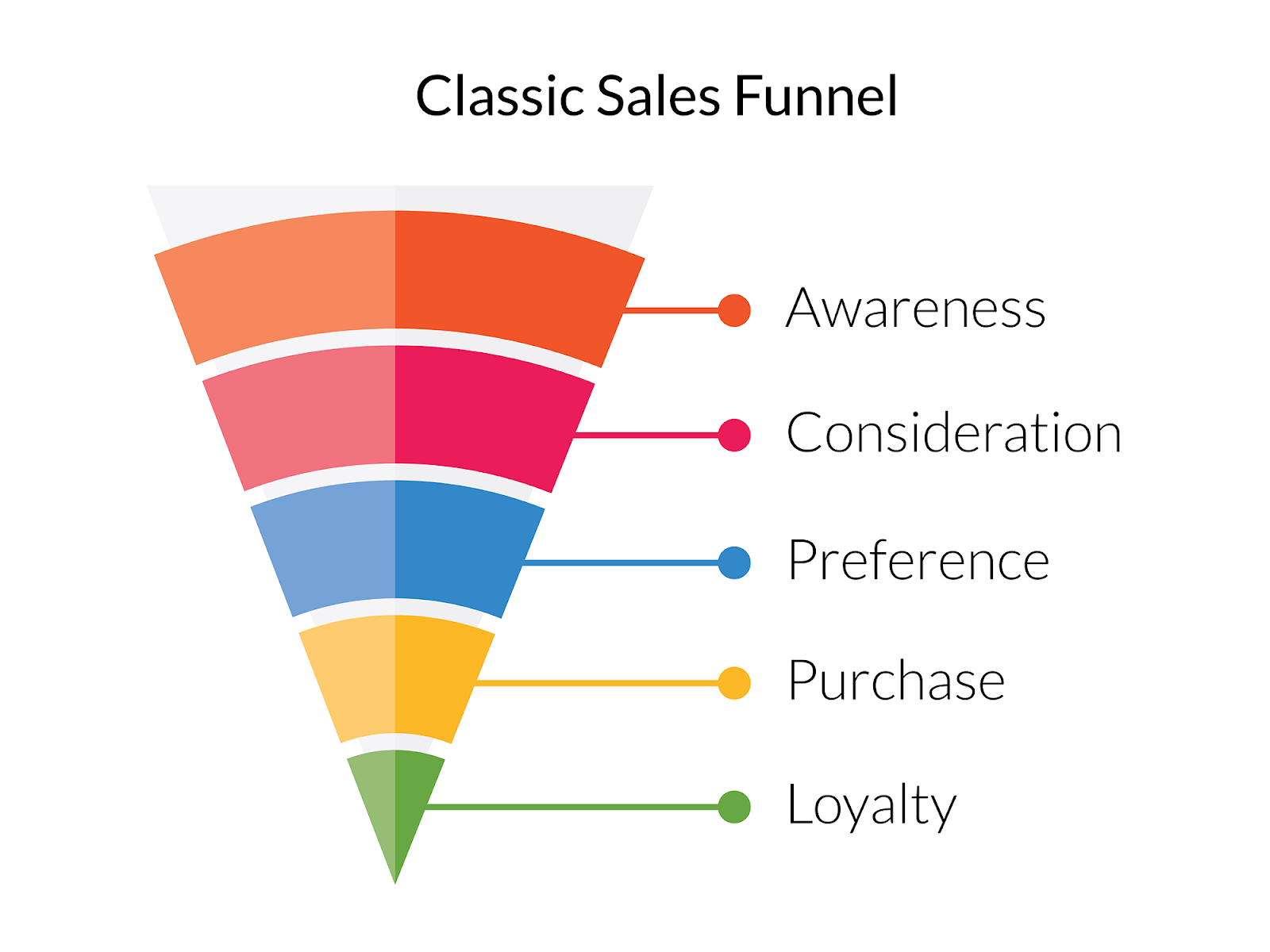 However, their real sales funnel looks like this:
Almost none of the average articles dedicated to sales funnels mention this. Therefore, business owners find a "How to build a sales pipeline tutorial", follow it closely. After creating a simple sales funnel structure, they use it to define their KPIs, estimated results, and revenue. All that system crumbles as soon as they come across the challenges and situations their tutorial didn't warn them about. Ultimately, their neat funnel structure gets lost in a natural, yet unpredictable human chaos.
Due to this, some marketing experts claim that a sales funnel is dead and it's high time to admit that the buyers are in control of the sales process. Hence, all the sales techniques and tactics should be centered around the buyers and their journey towards the purchase.
While there is some truth to that — customers did become more active — we wouldn't be in a hurry to bench sales funnels and make way for new terminology. Sales funnels didn't die. Their role has shifted from driving buyers to navigating vendors, and it's as important as ever.
When you know your sales funnel, you:
Know your audience. Sales funnels allow mapping your prospects' behavior, their pattern of familiarizing themselves with your service or product, and the process of exploring your product.
Miss fewer sales. Lots of potential buyers can drop out between the stages and distance themselves away from your reach instead of landing in front of your sales reps.
Improve your communication. When you know the stages of a sales funnel, you know how your message and your follow-ups should look like to keep your prospects engaged.
Know the outcomes. With the sales funnel, you can build and calculate many different scenarios of your interactions with your prospects and future customers in advance. Therefore, you will exclude the risk of unexpected challenges and sudden turns in your B2B outside sales communications.
However, if sales funnels are unpredictable and complicated, how do you build one without losing your sanity and a long way of trial and error?
While trials and errors are inevitable, it's still possible to develop a systematic, functional and revenue-generating sales funnel that would be a great fit for your business.
How to create a sales funnel
Your sales funnel is tightly intertwined with your sales process. Remember that when outlining the sales funnel stages that are common for your business.
When you work with your sales teams, you should establish three important points: Who? What? When?
When should certain steps of the sales process be applied?
What should be accomplished at this stage?
Who should be in charge of the stage?
When you visualize this process, you start sketching your sales funnel. Your next step is taking a look at your current customers. You can do it by conducting surveys across your databases, documenting your cooperation with your freshly converted clients within RFP, or discussing your current cooperation, asking relevant questions at the right moment.
What questions should you be able to answer after your research?
How do they find you?
Was it referral marketing? Was it social-proof marketing? Was it LinkedIn or your website that motivated them to reach out to you? Or was it a cold email campaign that got their attention?
If you work in B2B sales lead generation as we do, you probably initiate the Awareness stage yourself by sending cold emails and offering to take a call. If so, you should create an appropriate group for that segment of your target audience.
How long does it take for them to make a decision?
How much time do your prospects need before they inform you about their decision about your product? How many people take part in the decision-making? Do they need to go through a special group before deciding upon agreeing to employ your services?
Your B2B buyers are not likely to close deals quickly. They need to discuss your value proposition with their team, explore all the benefits, perform research, and decide upon their next step.
What kind of data do they find persuades them to make a purchase or accept your services?
Usually, you close deals with the right combination of a well-written value proposition, professional communication, and appropriate content. You must define the strongest points of your sales process and their place across the sales funnel stages.
By gathering these data, you get an idea of what occurs in the Awareness stage, the Consideration stage, the Preference stage, and the Purchase stage. It gives you a better understanding of what to do at each stage and how to plan your content and inbound marketing tactics. However, this is not the end.
Optimize your sales funnel management
Each missed B2B sales lead opportunity leaves a bitter taste in one's mouth, yet it happens all the time. Your potential buyers slip through the cracks between your sales funnel stages, and when you find out about it, it's usually too late for remarketing efforts.
Sales funnel process at Belkins
Each sales funnel has its holes and gaps, so before you get started on fixing issues, you should locate them properly. At Belkins, our sales process is deeply rooted in the synergy of our Lead Research, Support, and Sales Development departments, so when something goes awry, we sit down and work on the solution together.
So, when you decide to deal with the leaks, don't do it alone. Gather your team, let each member report on their activities and progress, as well as any issue they have encountered — and find out:
Where does your sales process start dragging its feet?
Where do potential customers get lost?
When do your sales get positively triggered?
To make your search for sales funnel cracks easier, we outline several reasons why your sales funnel may start leaking:
Poorly executed follow-ups
Brevt Group research concluded that 44% of sales reps don't follow up after the first contact. Usually, it happens when your goal setting is off. If your sales teams don't know whether they should prioritize focusing on new business leads or concentrate their efforts on nurturing current leads. As a result, sometimes you see a spike in your follow-up emails and sometimes there is no activity at all.
How to deal with it? Redefine your sales strategy. Speak with your sales executives to see how well they understand the company's goals and the KPIs. Analyze your lead database and see how much time it takes for you to acquire and engage your B2B leads. See how this data aligns with your expected results.
Giving up too early
When a prospect says "No, thank you", moving on to the next lead looks like a logical thing to do. However, sometimes sales teams get too cautious and they confuse "No, I'm not interested right now" with "No, I'm not interested at all". Later, your business pays for that with lost sales opportunities and missed potential buyers that could have become your long-term customers.
How to deal with it? Look at the responses you receive and select those that can be salvaged with the right message and good timing. Create A|B versions of these emails and run outreach campaigns for re-engaging your prospects. Once you get the results, adjust your follow-up guidelines accordingly.
Slow responses
Following up at the right moment saves the deal. Respond in 30 minutes, and your chances of scoring an appointment skyrocket. Hesitate just for a minute, and you lose your prospects forever. This is why at our company, there is a golden rule: never end your working day with a full mailbox. All emails must be responded to and sorted appropriately.
How to deal with it? You need to create a schedule for sending your emails and follow-ups. Exploring your prospects' behavior allows you to manage your time more efficiently and not stall your campaigns.
B2B sales funnel tips
Managing your B2B outside sales and sales funnel is not easy, especially if you process more and more deals with time. Too much data to keep track of, too many scenarios to work through, too many things to control. It's quite a challenge.
Keep in mind that using a cookie-cutter sales funnel template won't score deals for you. The process of building a sales funnel of your own will be complicated, chaotic and you will have to do everything from scratch.
Every stage of your sales funnel will be individual for your business, company, and industry because it will be based on the media channels you use, the goals you pursue, and the business model you follow.
Stay tuned to your team. This is the only way to timely locate the leaks in your sales funnel and develop a solution.
Your sales funnel must be a system that is monitored, documented, and gathers data on your customers' behavior. Therefore, it makes sense to keep your sales funnel organized in your CRM. At Belkins, we use special tools that allow us to work with the sales data directly in our business mailboxes.
With these instructions in mind, you will feel more confident when adjusting your sales strategy, sales funnel stages to fit your customers' behavior and creating a roadmap for your business.
In case you're looking for more suggestions, schedule it with our Belkins calendar. We're always ready to provide you a willing ear and a handful of recommendations.